Waarschijnlijk al gezien op een deurmat bij u in de buurt: puike publicatie van Onomatopee uitgebracht bij 'Global Villaging, stories of global anthropologists'. Deze expo opende afgelopen vrijdag in de Schellens Fabriek te Eindhoven.
(Een bericht van Simon Kentgens.)
Uit het persbericht:
"We kunnen niet om de actualiteit van culturele omwentelingen heen. Waar een bewustwording over Eurocentrisme tot voor kort progressief leek, wordt dit begrip elke dag een grotere illusie. Juist deze kunstenaars tonen hoe nabij de stemmen uit Egypte, Bahrein en Syrië zijn en hoe close deze met ons "vertrouwde" Nederland zijn."
Dit alles in een gewaagd expo ontwerp met veel latten en lappen van ontwerpster TTTVO.
Nog te zien tot en met 29 mei.
Curator / organisator Freek Lomme voert het openingswoord.
De heer Schellens himself opent door middel van het doorknippen van een rood lintje.
Schilderijen van Simon Kentgens, die in China zijn portfolio liet kopiëren. Installaties in verf.
Wouter Osterholt & Elke Uitentuis lieten in Bahrein een schaap slachten op een in Australië geknoopt tapijt.
Enkele moeilijk fotografeerbare videowerken, maar bij deze toch een poging:
Jack Segbars bezocht Palestina
Fanny Zaman toont een film gemaakt in China.
Khatt Foundation, Huda Smitshuijzen AbiFares en Jan de Bruin.
Dubbele diaprojectie van Paul Hendrikse, die onderzoek doet naar het reilen en zeilen van een Kameroenees dichter.
Filip Van Dingenen en Barbara Pereyra volgden een Ierse schrijver in Argentinië.
Memories of Aleppo van Richtje Reinsma.
Ri(e)neke Dijkstra De Vries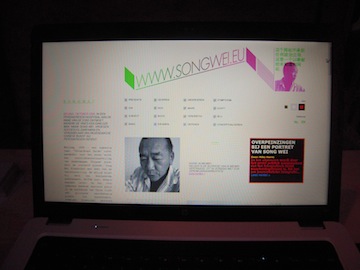 Rieneke de Vries kwam in China op het spoor van Song Wei, een voormalig zakenman en kunsthandelaar die in een psychiatrische inrichting belandde.
En dan biertjes drinken natuurlijk:
Global villaging tussen latten en lappen. Een aantal mooie werken die de aandacht vragen. Lees dat boekje en ga dat zien in Eindhoven t/m 29 mei!