Artbook Fair Amsterdam, een initiatief van Yannick Bouillis en Delphine Bedel. Een prestatie: 70 uitgevers uit 16 landen. Heel veel mooie mensen, heel veel interessante boeken. Zoveel dat ik zonder iets naar huis ben gegaan. WBM vind ik leuker (kleiner, fijner, wild), maar da's persoonlijk :)
Een hele kleine selectie:
ABC Artists Books Cooperative bijna volledig aanwezig.
Ben Schot van Sea Urchin schikt.
Cinema Clash Continuum, studium generale Gerrit Rietveld Academie, gedrukt door Rob Stolk.
Foam Books bij Boeki Woeki.
FW: photography allerlei plus Julia Slager.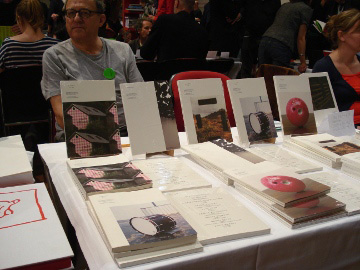 Gagarin bomvol teksten door kunstenaars.
Image Junky door HEAD.
Jan Adriaans is content met nieuwe publicatie bestaande uit drie delen.
Hierin ook een werk van Simon Kentgens.
Jan Adriaans' uitgever Peeping Tom.
Jong geleerd oud gedaan geldt voor Julia Slager.
Niet meer te koop, Wanderlust, excursions in contemporary sculpture ook gedrukt door Rob Stolk.
Ingrid Commandeur van Alauda Publications.
The Form of the Book Book bij Motto.
Werkplaats Typografie met een al in elkaar gezette 'WT Punch-out activity book' model.
Za Zelazna Brama (Behind the Iron Gate) van Heidrun Holzfeind bij Kodoji Press.