Zaterdag 11 juni (om 11 uur) is de Grote aftrap van Too late, too little (and how) to fail gracefully.
Nu al de klapper van het jaar. Groots, waanzinnige locatie, smart tentoonstellingsconcept, en een batterij aan goeie werken op een rij en door elkaar: een kolfje uit de koker van niemand minder dan Liesbeth Bik en Jos van der Pol.
Komt allen. Spring op de fiets engraaf je in in het mega-programma van Blackmarket for Useful Knowledge and Non-Knowledge (PDF) of de vele andere werken, dingen en acties en verhalen.
Meer kan ik er niet van zeggen op het moment want topsecret
(en ik kan het weten, want ik doe zelf mee.).
Hier alvast een paar plaatjes van de aanloop:
Marc Bijl (voorzijde)
BikvdPol geven Marc Bijl aanwijzingen in het realiseren van zijn eigen (achterzijde) werk.
Blackmarket for Useful [..] lanceerplatform voor lezingen-bombardement (PDF), samengesteld door BikvdPol
Machienerij door Jasper Niens met John Colenbrander.
Jeuh, het werkt!
De stenen van Lara Almarcequi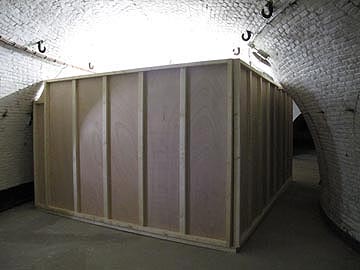 Sta-in-de-weg van uw gelegenheidscorrespondent zelve
Verder met Otto Karvonen, Pilvi Takala, Alain Fleischer, Freddy Heineken, Martijn Engelbregt en vele vele vele anderen.
Een gewaarschuwd mens telt.
Too late, Too little (and how) to fail gracefully is daarna voor altijd te zien van dinsdag t/m zondag (of elke dag behalve maandag) tot en met 25 september 2011 van 10u tot 17u.
Oja, WAAR: KunstFort ASPEREN in Asperen
*Mede mogelijkgemaakt door de tovertalenten van Gerbrand Burger en Nathalie Hartjes.