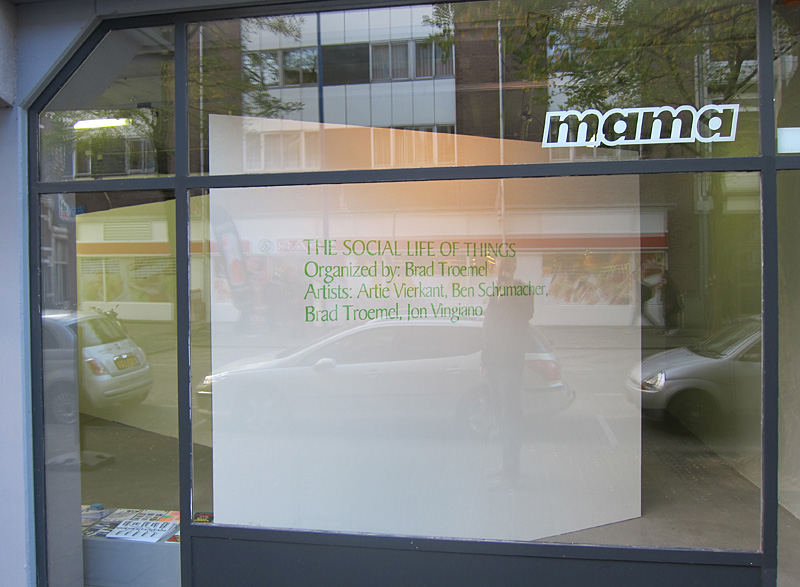 Een handvol websites tentoonstellen, hoe doe je dat? Je kunt het concept op de muren schrijven en in hokjes de bijpassende URL's beamen. Of dat een meerwaarde heeft buiten die websites/concepten zelf is een vraag waar ik het antwoord op weet.
showroommama.nl/projects/thesociallifeofthings.cfm
Showroom MAMA gaat altijd creatief met de piepkleine ruimte om. Ook nu is met slim geplaatste muren en een enorme tafel een tentoonstellingsinstallatie gebouwd. Daarbij is ruimte vrij gehouden om naast The Social Life of Things een solo van Lonneke van der Palen te tonen.
Modern fotowerk dat glimt en als van nu oogt.
Vooralsnog legale wietteelt.
Overzicht van de ruimte.
Tekst en uitleg over Echo Parade. Zonder website – ik ben benieuwd of die gelukt is.
Klik en hover bovenaan voor tekst en uitleg over blindmist.com.
En dan krijg je binnen zoiets.
Frisse zerocontent – mwoah. Valt te bezien. Matige concepten, bescheiden uitgewerkt.
"MAMA's laatste tentoonstelling van 2011 bestaat uit een serie evenementen, websites en objecten die bij elkaar worden gebracht door de jonge Amerikaanse kunstenaar Brad Troemel (USA, 1988). Het centrale thema van de tentoonstelling is hoe informatie en objecten worden verspreid binnen netwerken van personen op internet en in real life."
The Social Life of Things
5 November – 23 December 2011
Artie Vierkant , Ben Schumacher, Brad Troemel en Jon Vingiano