In de entree van W139 de tentoonstelling 'Warriors at the Edge of Time' van Pablo Londono Sarria.
Uw verslaggever bleef een keer in de hoofdstad en deed een galerierondje.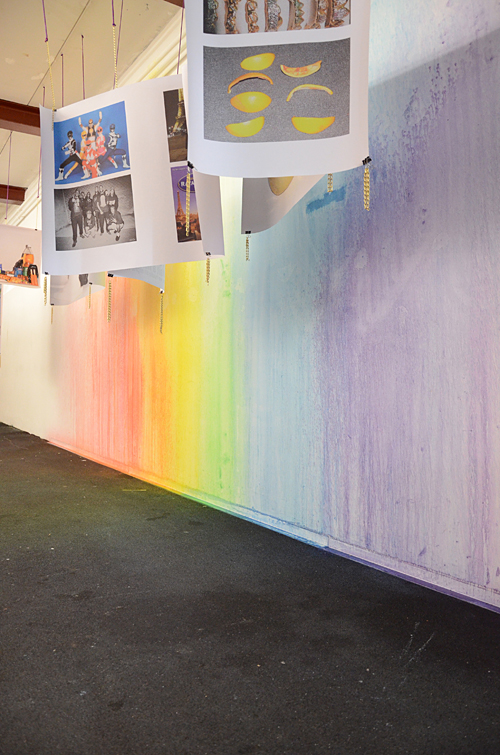 Prachtig regenboogmuurtje (ook gezien in Oranienbaum) van Edwin Deen.
In het kader "Present your art world" kunnen Amsterdamse kunst initiatieven hier zelf posters in elkaar knutselen om zichzelf goed zichtbaar te maken.
Erg gezellig maar met matig resultaat.
Julie Scheurweghs in De Brakke Grond met als titel: "Accidentally on Purpose".
"Denk aan mij" van Ivo van der Bent, ook in de Brakke Grond.
Prachtige show van Paulien Oltheten.
Gaat dat allen zien, nog tot 27 oktober 2012.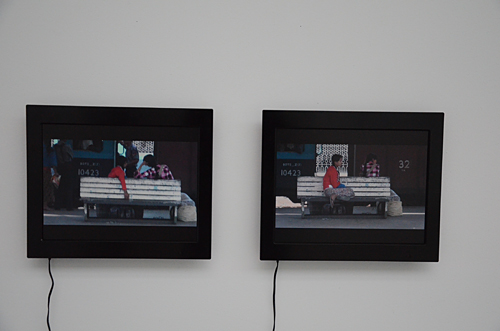 Een video tweeluik van Sander Breure & Witte van Hulzen bij Tegenboschvanvreden.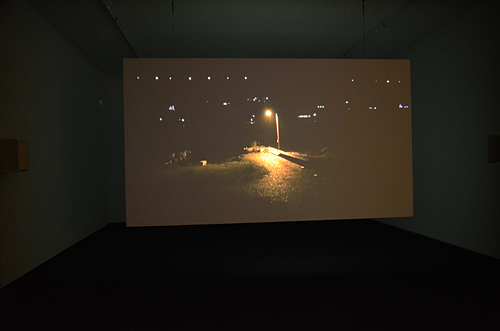 Maurits Koster bij Jeanine Hofland Contemporary Art.
Bij Gerhard Hofland stond dit pareltje trompe l'oeil van Jochen Mühlenbrink terloops op de grond.
Nieuw werk van Koen Delaere, aldus de galeriehouder.
Op de bovenverdieping foto's en een video van Cindy Jansen.
Bij Smart Project Space moesten de schoenen uit… spannend!
En dat was het! De hele tentoonstellingsruimte was een grote pinhole camera… een project van Giorgio Andreotta Calò, nog te zien tot 21 oktober.
Dit zegt de perstekst maar ga vooral zelf kijken:
"8.9.2012-21.10.2012 is the temporal frame that the artist Giorgio Andreotta Calò uses to provide the spectator with the possibility of physically and metaphorically entering into the dimension of changing and evolving time. Furthermore, the work constitutes itself as an audio visual reflection on a span of time that is linked to the natural appearance and disappearance of light. As the title and the opening hours suggest, the intervention evolves between the sunrise and the sunset of each single day."