Samen met Jasper Griepink de hele Kunstvlaai in de Worm/ Roodkapje kelder.
Niels Post is beeldend kunstenaar en actief als mede-oprichter van Trendbeheer.com. Hij is opgeleid aan de AKI in Enschede en het San Francisco Art Institute. Zijn werk is wereldwijd te zien geweest op videofestivals, tentoonstellingen en als zelfinitiatief in de openbare ruimte. Spam, computer gegenereerde tekst die niemand wil maar die overal opduikt, vormt de laatste jaren het basismateriaal van zijn beroepspraktijk. Post gebruikt het voor interventies op leegstaande winkelramen, wandsculpturen en ruimtevullende installaties.
Related Articles
Nr. 2 Bahn Schranke "From now on my goal is to produce one VIDEO-clip each day of this month!" Een maand lang elke dag een nieuw videootje en maken en online knallen, voor vandaag (4 [Meer…]
Mocht u in Rotterdam zijn vandaag (24 juni), heeft u trek in een kop koffie en zin om door middel van 1 frame een bijdrage te leveren aan verse Valk. Tussen 13:00 en 20:00 bent [Meer…]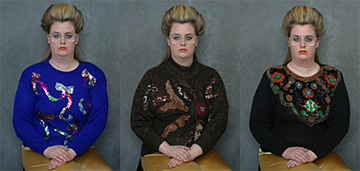 Ze heten allemaal anders, de immer groeiende verzameling Gem Sweaters van Leslie Hall. GemSweater.com
1 Comment
een blijmakend toine-filmpie!