By far de beste tentoonstelling die ik in jaren in Witte de With zag, na Helio Oiticica in 1992 en Paul Thek in 1995 is dit sjamanistisch, gewijd en queer ingesausd totaaltheater van AA Bronson een must/see/go, een niet te missen viering van de randen van de kunst.
Het riekt en het is er warm. Bloed, zweet en sperma, het betere hang en spuitwerk: AA Bronson doet Witte de With. Een sureeel rariteitenkabinet met onvermoede kwaliteiten daar het – althans bij mij – lijkt te werken. De magie van de inspiratie: brilliant samengesteld en voorbeeldig gehangen, aandacht en concentratie, als één grote compositie met grootse gebaren en vol gevoel voor detail.
Een van de beste tentoonstellingen die ik überhaupt zag.
wdw.nl/nl/event/the-temptation-of-aa-bronson-2
Een dwarsdoorsnede in tweemaal acht snapshots:
De eerste verdiep is de lichte verdiep:
Marina Abramović' higher art voor de voor de filthy rich. Transitory Objects: Beds for Human and Spirit Use. Zes zachthouten tafels met megakristallen voor light in je donder.
General Idea – dertig tantrische tekeningen
Chrysanne Stathacos – Rose mandala Mirror en 27 polaroids uit The Aura Project
Restanten van een van de openingsperformances – van 1 minuut over twaalf 's nachts tot diep in de ochtend – Bradford Kessler was gehondkettingt in de weer met groene verf.
In dezelfde ruimte staan een zwarte en een witte kubus.
Bij het krieken van de ochtend: foto uit het openingsverslag van Hyperallergic.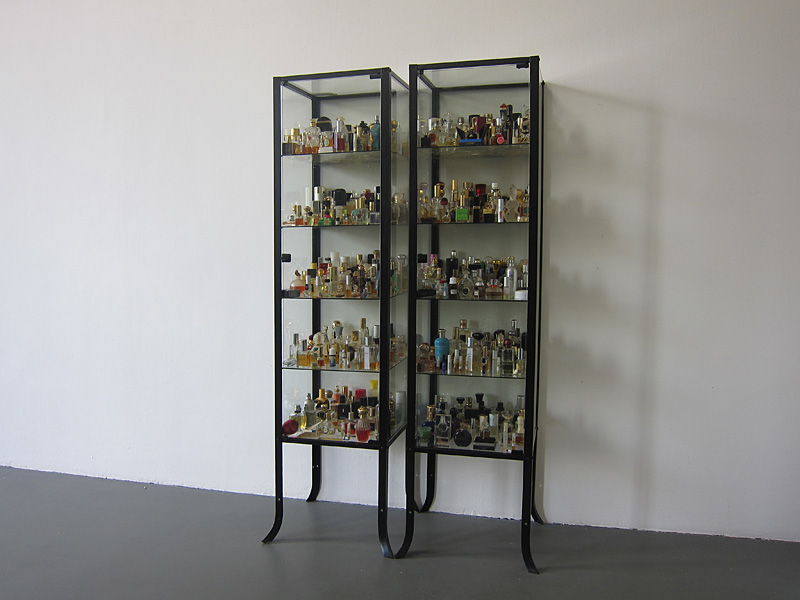 Parfumorgel Sands Murray-Wassink
500+ geurwaters
Openingsperformance: Sands Murray-Wassink met zonder kleren aan en ACCEPTANCE blauw op de borst in de weer met geurstaafjes. (Foto uit het openingsverslag van Hyperallergic.)
Verzameling queeerzines onder glas en inzichtelijk aan de muur.
Kwaliteitszines galore; titels die in geen enkele verzameling mogen ontbreken.
Cum pieces Matthias Herrmann – ondergespoten dit en dat, je zou er haast een baard van krijgen. Maar zo fraai sacraal gehangen krijgt het andere connotatie.
En dan ga je de trap op – naar het donker. Je ziet – de vloer is bezaaid.
Urenlange saliestrooierij tijdens een van de openingsperformances. (Foto uit het openingsverslag van Hyperallergic.)
Het riekt het knerpt het geurt.
En dan zie je dit en dan moet je lachen… TM Davy schildert AA Bronson in the magic forrest.
De eerste ruimte is gelijk een soort setting Lord of the Rings – met kobolden en mirre en zwaarden en de harlekijnen van het z(w)evende zegel.
En toch en toch… 'T is geen slappe zever. Althans World of Warcraft is ook geen slappe zever voor wie het dagelijks speelt.
Naar ruimtes met AA Bronson eigen werk, bovenstaand mirror sequenses 1969-1970.
Bronson gehangen.
Verfpret met je maat.
Hij is er ook.
Derek Jarman doet een Klein.
General Idea met gevonden paperback met sticker James Bond Dr. Yes.
Elijah Burgher
Must/see/go: the temptation of AA Bronson. Inhoud in kunst wordt zwaar overschat en betekenis is gewoonlijk onderdeel van Integrale Subsidiemarketing TM maar wat hier is samengebracht gelijkt wel magie: Bang whaam zoom. Ik ben buitengemeen geinspireerd geraakt.
wdw.nl/nl/event/the-temptation-of-aa-bronson-2
.