Naast de rode vuurtoren van Scheveningen in de kelders van het betonnen verzet een vijftiental bijeen gezochte kunstenaars.
"We live in an age of merging transparent worlds, of hybrid states in form, meaning, and value. Little is fixed; everything seems fluid."
Met een ALLCAPS manifesto – dat we dan ook skippen. Alleen vormvegers kunnen dat lezen.
En met handout in plaats van naambordjes – WAAROM? schande! kleine moeite groot plezier – maar verder alleszins obscuur kwa lokatie en inzet.
Een goede training is de beste bewapening. PRECIES. That's the spirit. Onbekende kunstenaar maar het maakt wel indruk.
Constant Dullaart recycleert vrolijk zijn Jennifer Knoll.
Oliver Laric gaat los met 3D scans.
Katja Novitskova
Charbel-joseph H. Boutros koelt zijn verwarming. Of omgekeerd.
Frederik De Wilde Lead Angels
Maar wat is dat?!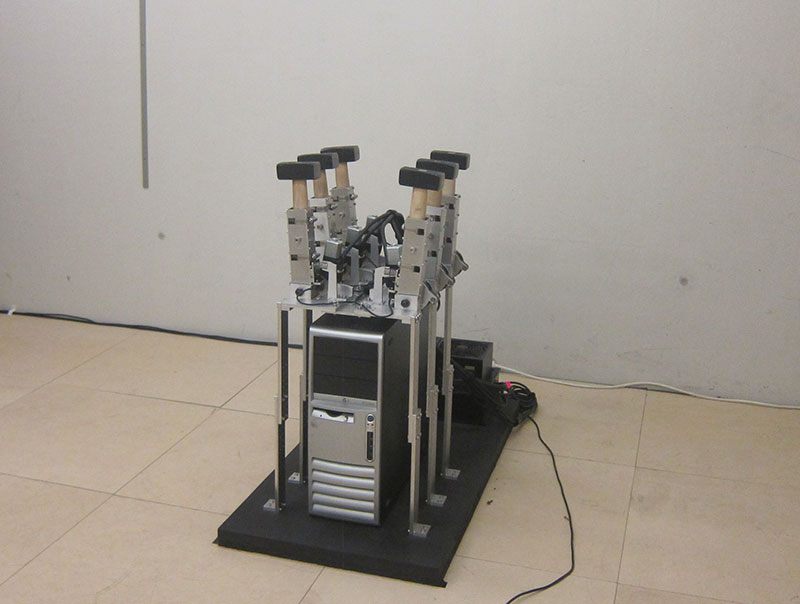 Precies wat je denkt. Stefan Tiefengraber boempatst zijn doos.
216 prepared dc-moters van Zimoun
H C Gilje Trace
Opgepompte brandweerslangen Zoro Feigl houden zichzelf in stand.
Nog tot 5 oktober.