1:54 bij Pioneer Works, Brooklyn.
Ik schreef er vorig jaar al over maar time flies en daar zijn ze weer, de 'mei beurzen' in New York met vlaggenschip Frieze. Daar zijn ook weer de multimiljonairs die geld teveel hebben en kluizen om te vullen. Voor de gewone mens werkzaam in de kunst is het toch meer een soort verplicht nummer en/of gaan om gezien te worden. Vooral in de BMW lounge waar de drank rijkelijk en, niet onbelangrijk, gratis vloeit. En tja wat kan je nog schrijven over yet another fair ergens in de wereld…??
Hrag Vartanian (Hyperallergic) kwam uit de hoek met wat vergelijkingen:
Curator Pablo Helguera postte deze veel gehoorde verzuchting op Facebook…
Gespot op Facebook bij Martijn van Nieuwenhuyzen: het enthousiasme druipt er vanaf, aan de gezichten te zien is het de hoogste tijd om richting die BMW 7 series VIP lounge te gaan…
Maar natuurlijk hangt er goeie kunst en de beurzen als Armory (maart) en nu in mei Frieze doen hun best om het allround te houden. Voor ieder wat wils, met gesprekken, performances en educatie programma's zodat je je kinderen kan meenemen, Project Projects (Prem Krishnamurthy) ontwikkelde hiervoor de 'Youth Guide to the Fair'. Maar heel eerlijk als je in New York bent in mei en je bent geen pers/VIP zou ik zeggen kies dan voor de kleine beurzen, lekker behapbaar en die iets bijzonders te bieden hebben wat je anders niet zou zien zoals 1:54 bij Pioneer Works in Brooklyn, en Flux die durven het dit jaar echt innovatief aan te pakken en organiseren een maand lang een programma van buitenwerk in en om het Marcus Garvey Park wat echt super cool is! Je kan natuurlijk ook gewoon uit de enorme hoeveelheid tentoonstellingen en performances in musea en galeries kiezen. Zie je ook de kunst die je op de fairs ziet maar die presenteren de werken qua inhoud en esthetiek binnen een context. Alles staat dan in het teken van de werken zelf in plaats van de verkoop ervan waardoor je als gewone kijker echt wel meer van de werken kan genieten.
Op Frieze gezien:
David Wojnarowicz bij P.P.O.W, Main Section voorproefje van het komende retrospectief in de Whitney.
Moshekwa Langa, Untitled II (Mapping text), 2009, Mixed media on paper, 153 x 103 cm, Courtesy: Stevenson.
Philip Guston, Black Coast, 1977. Oil on canvas, 67 × 79 3/4 in, 170.2 × 202.6 cm. Hauser & Wirth.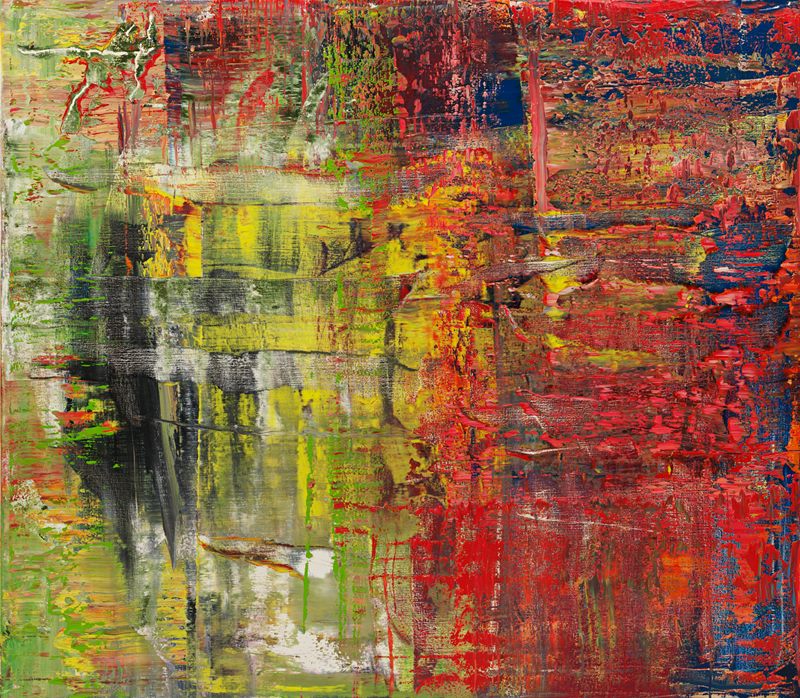 In Art Colgone en nu weer in New York: Gerhard Richter, 940-8 Abstraktes Bild, 2015. Courtesy: Artist en Marian Goodman Gallery.
Hannah Perry at Seventeen Gallery, Focus Section.
Bij Flux Art Fair / Flux Public Art Projects kan je dus de hele maand mei (en sommige werken nog langer) de 40 verschillende projecten / interventies zien in Marcus Garvey Park en diverse andere locaties (zie plattegrond op de website).
Bayeté Ross Smith, "Got the Power: Boomboxes: Harlem" (2016).
Sui Park, Sprout (2016).
Jordan Baker-Caldwell, Golem (2013).
Jack Howard-Potter. Belvedere Torso (2010).
BOLO (Qinza Najm & Saks Afridi), The Defiant Shadow (2016).
Stan Squirewell, The Odyssey (2016).
Jose Soto, Focus (2016) is nog te zien tot 1 november.
In Pioneer Works , Brooklyn voor het 2e jaar 1:54 Contemporary African Art Fair, 17 galeries, 60 kunstenaars uit 27 landen. Ook dit jaar weer gesprekken en performances.
Joel Andrianomearisoa, bij Sabrina Amrani Art Gallery, Madrid, Spain.
Performance by Dave McKenzie, 'This ship would set sail, even anchored as it was', 2016.
Yeanzi, Vincent Michea & Cheikh Ndiaye bij Galerie Cécile Fakhoury – Abidjan, Côte d'Ivoire.
Franck Ludangui & Yashua Klos bij Galerie Anne de Villepoix, Paris, France.
Edson Chagas & Ibrahim Mahama bij A Palazzo Gallery, Brescia, Italy.
Francis Goodman bij Richard Tattinger, New York.
Ok ja doe me die maar…