Frieze (foto: CP Yen)
Jarenlang was het in de maand maart dat alle art fairs in New York plaatsvonden. Maar sinds het eigenwijze Londens Frieze besloot een NY editie te maken en dit in mei te doen, zien we het aantal beurzen in mei oplopen. Zo ook de intocht van kunstenaars, curators, pers, collectors, celebraties, liefhebbers en anderszins.
Frieze, Randall's Island (foto: courtesy Marco Scozzaro/Frieze)
Frieze kan je vinden op Randall's Island (met een ferry vanaf Midtown, $20) of met de bus vanuit Harlem 125th Street) heeft zo'n 190 booths van internationaal gerenommeerde galeries met de meer gevestigde kunstenaars. Ik zal niet in herhaling treden, tik Frieze in op google en zo'n beetje alle pers maakte lijstjes van de top 5, 7, 10, 20, 30, etc. beste werken, kunstenaars, galeries, booths, celebraties en best geklede bezoekers op Frieze!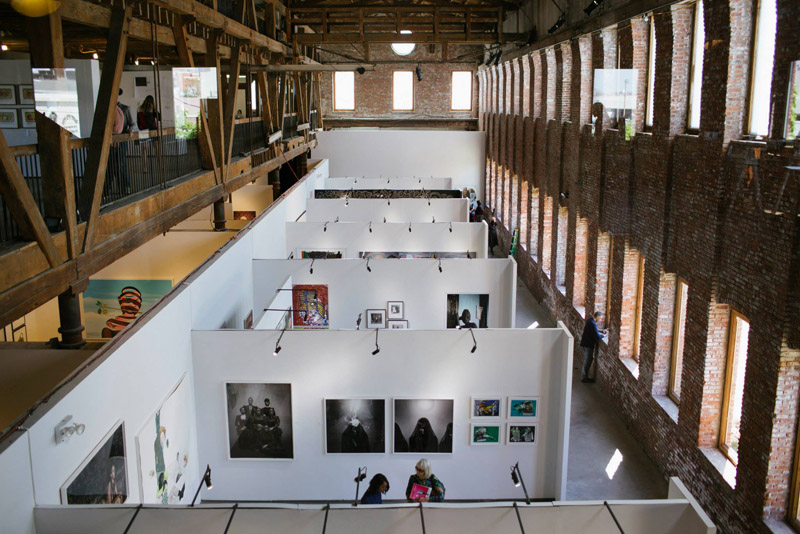 Ook overgewaaid uit London (daar te zien in oktober!) is 1:54 dit jaar voor het eerst in New York, in het prachtige Pioneer Works gebouw in Dumbo Brooklyn ($10). De focus van 1:54 (1 continent – 54 landen) is op Afrikaanse en Afrika gerelateerde projecten van zowel gevestigde als opkomende talenten. Slecht gepromoot werd deze fair uiteindelijk toch de talk of the Town, met maar 16 galerie booths was het klein maar fijn!
Artist in Resident bij Marc Straus: Remy Jungerman en NY based kunstenaar Paul Anthony Smith
Peter Clarke, "Black Cowboy" (1982), gouache collage on paper, 50.5 x 65 cm, SMAC Gallery's booth – 1:54
Chloe Wise – sculptuur at Galerie Division op NADA (foto: courtesy Regina Mogilevskaya/NADA)
NADA is in de Lower East Side (LES) downtown Manhattan en doet de buurt eer aan, het is een 'not for profit fair'. In tegenstelling tot Frieze met een entreeprijs per dag van $52 is deze fair gratis voor iedereen. Hier zien we zo'n 100 minder bekende maar wel internationale galeries en opkomende in plaats van gevestigde kunstenaars. Als je geen miljoenen hebt te spenderen aan een kunstwerk maar iets wil kopen omdat je het mooi vind en direct aan je muur wil hangen in plaats van in je temperatuur gecontroleerde kunstkluis, dan is deze beurs waarschijnlijk meer wat je zoekt.
Contemporary Fashion with Cheryl Donegan, Richard Haines, and NADA x PAOM curated by Sam Gordon
Lina Puerta, Round (foto: courtesy FLUX Art Fair).
Flux is ook een nieuwkomer, 2 etages in de Corn Exchange in Harlem. Focus van Flux is de diversiteit van Harlem te reflecteren wat resulteerde in het thema "The 21st Century Artist is a Nomad". De kwaliteit van de kunst varieert nogal, maar het enthousiasme en de energie van de 57 kunstenaars en de bezoekers maakt een bezoek de moeite waard. Zeker gezien het feit dat Flux makkelijk te combineren viel met Frieze want de bus van en naar Frieze op Randall's Island stopt op de hoek bij Flux.
Jeffrey Allen Price, Wall of Brickolages (foto: courtesy FLUX Art Fair)
Performance at Select (foto: courtesy Janet L. Roth)
Select keerde terug voor de tweede editie in het oude DIA gebouw in Chelsea (entree $22). Met meer progressief werk, installaties, nieuwe media en performance art op het dak was dit een van de meer dynamische plekken.
Performance at Select (foto: courtesy Carlos Llamas)
Om de lijst compleet te maken: Pulse, Salon Zurcher, Cutlog, Pool, Outsider, Sattelite, Collective2Design, Contemporary Art Fair, Verge en Downtown Fair.
Voor diegene die een trip naar New York in mei 2016 wel ziet zitten, neem je sneakers mee en zorg dat je in conditie bent.