1646, Den Haag, Johan Gustavsson.
Het is al weer even gelee, maar speciaal voor de thuisblijver nog een aardig overzicht van de Supermarket Artfair 2017 in Stockholm met uit Nederland: 1646, Club Solo, Code Rood & F.L.O.A.T. Uw verslaggever was mee met Code Rood uit Arnhem en zag een veelzijdige beurs voor kunstenaarsinitiatieven met een leuk performance program en flinke aandacht voor het netwerk van kunstinitiatieven in de vorm van korte groepssessies… Begin alvast maar met rekken en strekken: een ouderwetse scrollfesten!
(een bericht van Jeroen Glas)
Al-Mahatta, Palestina.
AllArtNow, Damascus, Syrie.
Bunkern, Örebro, Zweden, Tobias Bradford.
Carousel Institute of Arts (C.I.A.), Chesterfield, Groot-Britannië.
Chuyia Chia
Club Solo, Breda, Pim Tieland + Michelangelo Pistoletto, Collection M HKA, Antwerpen.
Frank & Michiel, The Cameo Series, Code Rood, Arnhem.
Mireille Tap: What the shells tell us, Code Rood, Arnhem.
Artist CollectiveKUNST, Helsinki, WTFL -WE Troll For Love.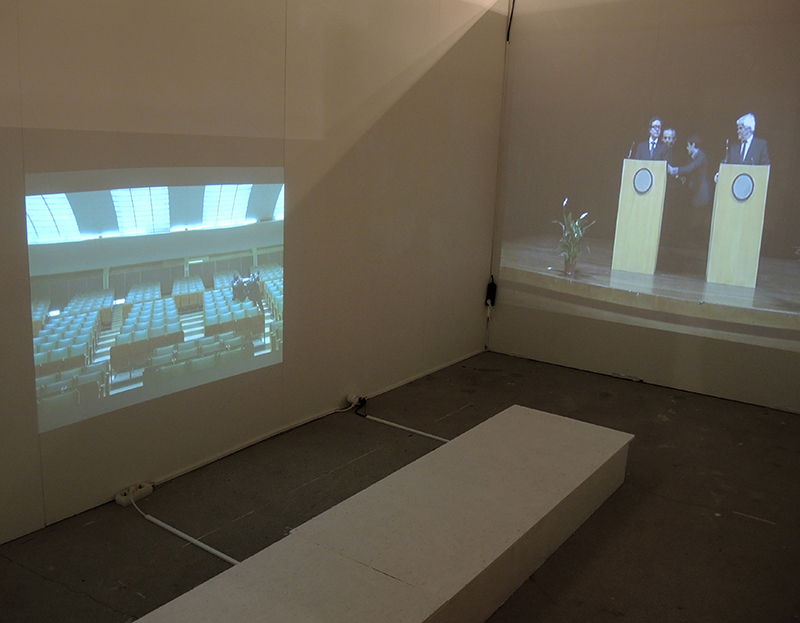 Moving Art Initiative F.L.O.A.T., Amsterdam, Ginta Vasermane.
Galleri Erik Axl Sund, Stockholm.
Galleria Sculptor, Helsinki, Petri Eskelinen 'Mechanics of Embrace'.
Galleri LOKOMOTIV, Örnsköldsvik, Zweden, Mats Wikström.
Intimnoe Mesto, St. Petersburg.
Kallio Kunsthalle, Helsinki.
Plattform Ankaret Visby, Visby, Zweden, 'The Sausage Can't Wait' project.
Rejmyre Art Lab, Rejmyre, Zweden, 'Performing Labour' project.
Tm galleria, Helsinki, Kaarlo Stauffer.
Underground Space Station, Toronto.
Verkstad Konsthall, Norrköping, Zweden, Signe Johannessen' The Beast & the Eye oft he Cyclone'.
Tot volgend jaar!