Doet men aan kunsttransport per luxe houten kist. Vanmiddag open t/m aanstaande maandag.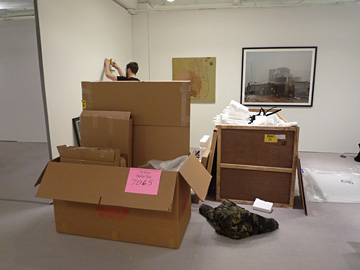 Niels Post is beeldend kunstenaar en actief als mede-oprichter van Trendbeheer.com. Hij is opgeleid aan de AKI in Enschede en het San Francisco Art Institute. Zijn werk is wereldwijd te zien geweest op videofestivals, tentoonstellingen en als zelfinitiatief in de openbare ruimte. Spam, computer gegenereerde tekst die niemand wil maar die overal opduikt, vormt de laatste jaren het basismateriaal van zijn beroepspraktijk. Post gebruikt het voor interventies op leegstaande winkelramen, wandsculpturen en ruimtevullende installaties.
Related Articles
Gisteravond (vrijdag) de Version 09 openingsparty, het officiële startschot van 10 dagen gekkigheid in het Amerikaanse stadje C. Woensdag VHS en vanmiddag praten Kuster & Post werk, Trendbeheer en Rotterdam. Komt langs want leuk! VersionFest.org
De Afrikaanse olifant. The Field Museum in Chicago. (foto's Jeroen Kuster)
Een rondje kunstgeschiedenis in het gigantisch grote Art Institute of Chicago waarin de trouwe fotolog Trendbeheer camera van NP het voor gezien houdt.
Be the first to comment