Doet men aan kunsttransport per luxe houten kist. Vanmiddag open t/m aanstaande maandag.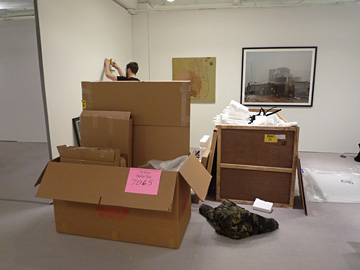 Niels Post is beeldend kunstenaar en actief als mede-oprichter van Trendbeheer.com. Hij is opgeleid aan de AKI in Enschede en het San Francisco Art Institute. Zijn werk is wereldwijd te zien geweest op videofestivals, tentoonstellingen en als zelfinitiatief in de openbare ruimte. Spam, computer gegenereerde tekst die niemand wil maar die overal opduikt, vormt de laatste jaren het basismateriaal van zijn beroepspraktijk. Post gebruikt het voor interventies op leegstaande winkelramen, wandsculpturen en ruimtevullende installaties.
Related Articles
Gisteren onze Amerikaanse gasten getrakteerd op een bezoekje aan de Verbeke Foundation a.k.a. het mooiste museum van de Benelux. Daarna door naar Antwerpen voor de Nocturne, kortom het ideale dagje België. Vanavond de Proximity presentatie [Meer…]
Een onderonsje in Chicago: Versionfest 08, Dark Matter. "For the NFO XPO Trendbeheer will show 6 Rotterdam based artists; Jeroen Jongeleen, Jan de Bruin, Alex Jacobs, Jeroen Kuster, Jeroen Bosch and Niels Post." versionfest.org
Groot is goed en veel is lekker, Next art fair Chicago.
Be the first to comment