Kleurrijke houtsnedes op reuzenformaat van de broertjes Tobias misstaan niet in een grootstedelijke galerie.
gem-online.nl/exposities/tobias-brothers
Het glimt en glanst en is hogelijk decoratief. Vers voedsel voor de kunsthandel. Museaal misschien minder interessant – al denkt het GEM daar vanzelfsprekend anders over:
"absolute eye candy: ze veranderen het museum onder je ogen in een (ietwat lugubere) snoepwinkel."
De begeleidende tekst bij de broertjes Tobias stikt van de enormicons:
"Professioneel gaat het ze ondertussen voor de wind. Sinds hun show in het MoMA in New York enkele jaren geleden, zijn ze graag geziene gasten geworden in de internationale kunstwereld. […] Ze deinzen er niet terug voor de bloederigheid van een pas geslachte geit te tonen, maar combineren dit met sierlijke vormen en sprankelende bloemmotieven, zodat het gruwelijke en het decoratieve ineens hand in hand gaan."
Nog te zien ot 13 juni.
gem-online.nl/exposities/tobias-brothers
Heel wat interessanter lijken de tekeningen en dioramas van Marcel Dzama in de kelder.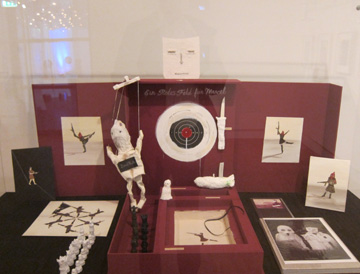 "De doos voor onbetrouwbaren of Een doos voor Marcel" – ai, refererentie aan Duchamp, dat heeft een baard. Plots dreigt knutsel – stat kunst. Of is die doos voor… van Eeden? (Of… voor Dzama?)
Van diorama tot kijkkast. In het laatste geval: Efteling dreigt. Maar vooral veel prachtig tekenwerk.