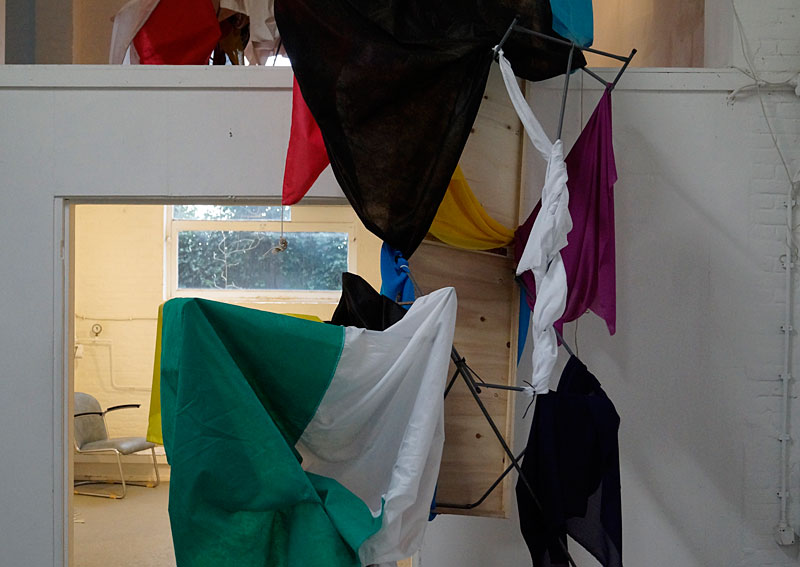 Ellen Rodenberg – Condition of comfort zones
De opening miste ik en de finnissage as zondag – excusez moi heren en dame, ik was er graag bij – ga ik ook missen. Gelukkig zag ik gister in alle eenzaamheid en niet gestoord door niemand een bijzonder fraaie EX-MÊKH in BuroRotterdam.
"Fuck Focus" is de titel erm ja maar waarom? Moet ik het verstaan als een oproep tot verwarring, klieren in de marge, is het gezelschap autofabrikant Ford beu? Of is Fuck Focus te verstaan als een just do it maar dan negatief geformuleerd?
Geen geknies: het is een prettige dwars-diverse topshow met samenhang van Maarten Schepers, Ellen Rodenberg en Kees Koomen. Ik was aangenaam verrast.
Een doorloop in tien snapshots:
Kees Koomen The diaries.
Kees Koomen, Loneliness in a White Cube.
Maarten Schepers
Ellen Rodenberg
Maarten Schepers
Ellen Rodenberg
Maarten Schepers
Kees Koomen
Maarten Schepers
Ellen Rodenberg
By far de beste EX-MÊKH die ik tot nu toe zag. Helemaal on focus, met van alle drie afzonderlijk fijn werk en een organisch geheel.
Er is veel te zien – veel meer dan bovenstaand – en de dwarsverbanden zijn fascinerend.
Kortom weest welkom op de afsluiting as zondag of stap als ik eerder binnen – zonder lust/last van ander volk.