PJ Roggeband tijdens Words Live 3 afgelopen zaterdag 9 mei in Stichting Bad.
Een wandeling in – hoe kan het anders – elf stappen.
PJ Roggeband's weblogement: elfletterig.nl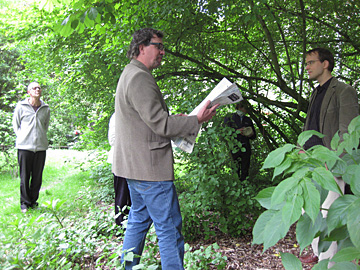 Met noot I:
Deze avond begint De Week van Ypenburg. Een elf kilometer lange nachtwandeling onder de bezielende leiding van randwachter PJ Roggeband vangt aan om elf over elf sharp. Men vertrekt van NS Station Ypenburg. Haast u! Volle maan gegarandeerd.
Volledig programma: 7×11.nl/deweekvanypenburg.html
Met noot II:
Een overvol en ultralang Words Live 3 grossierde in hoogtepunten. De strafste staaltjes van zelfverwijzing en reflexiviteit, kookwekkerpoëzie en zero content galore werden verlevendigd met klankkleurige lezingen, spreekbeurten en ritmische rijmelarij.
Tien bonuspunten voor de ronduit briljante lezingen van Tom Johnson: Lecture on handraising, Lecture with Question Period en Lecture with Repetition.
Geen beeld, noch verslag: u had erbij moeten zijn/kunnen zijn.
In de tuin van Stichting BAD groeit een Levi van Veluw.
In de tuin van Stichting BAD serveert men voedsel.