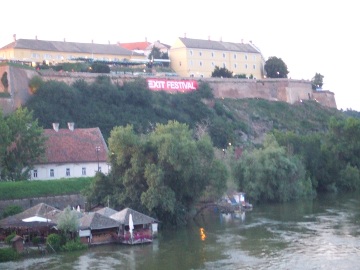 De festivallokatie: Petrovaradin.
Midden tijdens het festivalseizoen doen alle artiesten ook het Exit Festival in Novi Sad, Servië aan.
Vorige weekeind de 10e editie alweer, waarbij de meest onderscheidende kenmerken de lokatie, het lokale prijsniveau en de afwezigheid van Nederlanders zijn. Oh ja, en ook nog iets met het traditionele Servische vrouwbeeld, maar daar heb ik helaas geen beeldmateriaal van.
's Lands wijs 's Lands eer: tegenwoordig hoef je hier niemand meer om te kopen. Zo verzekerde men mij.
Pas nadien zegt men dat men met zijn gezicht niet op trendbeheer wil komen.
Jaag de dames de gordijnen in: Ibiza is er niks bij.
Ook hier heb je hoekjes waar geen hond komt: de experimentele DJ's
De politie maakte ook muziek, deze agent had zijn fluit ingeslikt. Old-skool house was er niks bij.
Afgekeurde lowlands-kunst.
Kraftwerk straalt een verbond uit met zijn fans
Attitude Is The Key To Success.
Moby zet duidelijk de fans naar zijn hand
Success is not about any single event. It represents the entire process you go through to achieve your success.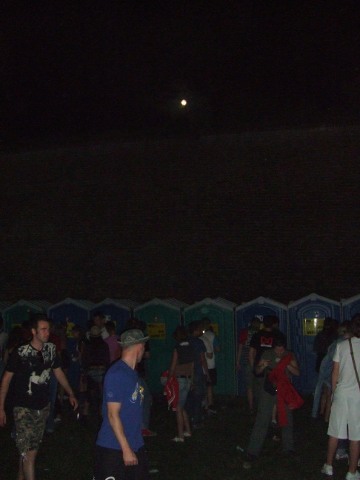 Something that demands a long period of extreme effort and determination will be worth more than whatever comes to you easily.
Het lokale Vojvodine folklorehoekje: meezingers voor de gekwetste Servische ziel.
The road to success comes through hard work, determination, and personal sacrifice.
Focus and Determination = Success.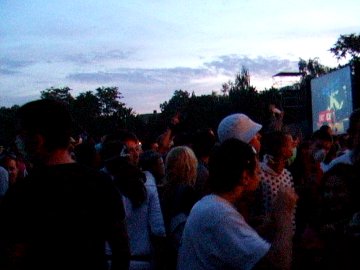 In het oosten van Europa wordt het vroeger licht. Vanzelfsprekend was het hier pas 10 uur 's avonds.
Raad en win: hoeveel geld is er over?
Het Servische levensgevoel(1): in onze straat was het gewoon betaald parkeren, maar er is altijd wel een creatieveling die dat weet te omzeilen.
Het Servische levensgevoel(2): Слобода Шешељу!
Het Servische levensgevoel(3): zeker weer een hollander geweest.
Het Servische levensgevoel(4): de verhuurders van het appartement hebben aan ons gedacht.