Een fijn overzicht van alles wat hip was de afgelopen twintig jaar is te vinden in de Elgiz Collection in Istanbul.
De Elgiz collection staat ook bekend staat als Proje4L, The Istanbul Museum of Contemporary Art of The Elgiz Museum of Contemporary Art en is in 2001 opgezet door Sevda and Can Elgiz. Een architect plus famillie die graag wat kunst aan de muren wilde en iets meer geld had dan de gemiddelde turk.
De Elgiz collection zit wel aardig op z'n plaats, midden in het financiele district van Istanbul waar, crisis of geen crisis, elke dag een wolkenkrabber bij wordt gezet.
Roken mag niet in de wolkenkrabbers en dus staat er bij elke uitgang een clubje ijverige werknemers, maar bij de Elgiz collection gaan ze niet naar binnen.
Dat komt wellicht omdat het museum dicht is op maandag. Gelukkig gaan de deuren wel wijd open om de Haagse kunstwereld, op sleeptouw genomen door Stroom Den Haag, toe te laten.
En zodoende opent zich een museale privé-collectie vol kunstpracht en praal..
Het is een beetje als de zolder opruimen en een doos oude Flash Arts vinden, maar dan met the real thing.
Elgiz begon met een keurige turkse collectie vol futuristische schilderijen en werd toen iets hedendaagser met o.a. het werk van Burhan Doğançay die graag met oude deuren werkt.
..en met werk van Ramazan Bayrakoğlu, die we later nog veelvuldig tegenkomen op andere plekken in Istanbul.
Maar al snel steekt Elgiz, of liever gezegd zijn kunstadviseur, de grenzen over en wordt er flink geshopped met de Flash Art in de hand.
En dus is er van alles te vinden, van Fabre..
tot Doug Aitken..
.. tot Thomas Struth.
Van de meesten is er maar één werk.
Maar van Tracey Emin zijn er wel drie. De belangrijkste is deze. Dat is logisch, want die is van Elton John overgenomen.
Ook bij de Cindy Sherman hoort een anekdote. De famillie was zo druk aan het verzamelen dat deze foto van flink formaat noodgedwongen in de babykamer in het apartement in New York hing. Tja..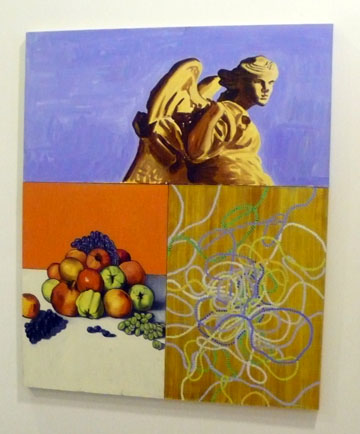 Deze Salle bleek bij toeval..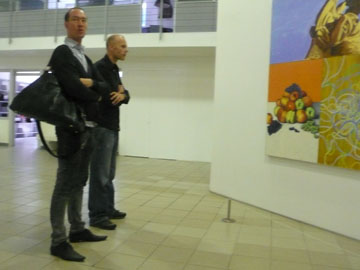 ..het favoriete werk van Johan Gustavsson van 1646.
Ook mooi, maar niet echt te fotograferen; een werk van Friederike Feldmann..
.. en dito een werk van Azade Köker.
Micha Poppe van Walden Affairs / Stroom Den Haag wil wel eens weten hoe het hoofd van Jack Vanarsky werkt.
Er is gelukkig meer dan Flash Art covers te zien.
Op de eerste etage is er ruimte voor een nieuwe generatie,
..die ook gelijk iets ondeugends toevoegt aan het geheel.
Een concept wat we later nog een keer tegenkomen op de Biënnale is de krant waar de tekst uit gehaald is en alleen de foto's overblijven.
Deze versie van Ozlem Gunyol wint, want Galatasaraytrainer Frank Rijkaard staat er op. Volgens de jonge dame van de PR, die plots begint te giechelen is hij 'hot'.
Hoogtepunt van de jonge generatie is een video van Genco Gülan.
Ook leuk, de bol van Berke Soyeur. Op het eerste gezicht wat vage projectievlekken,
maar als je achter de bol kruipt wordt het duidelijker.
En in Turkije is ook de poppenhype langsgekomen.
Dit gezelschap is en bestudeert het werk van Robert Gligorov
De collectie zit nog maar een paar dagen op de nieuwe locatie.
Wellicht dat daarom dit werk, dankzij haastig verhuizen en inrichten..
…wordt toegeschreven aan deze op artfactsnet onbekende kunstenaar..
Istanbul Art Tour deel 1: İstanbul Biennial vindt u hier