Op bezoek bij de Marszewski's, vol trots laat Edmar M de proefversie zien van de nieuwe Proximity, Jeremy Tubbs kijkt gezellig mee.
Incluis lang verwachte Rotterdam special, of de drukker het allemaal klaar gaat krijgen voor de opening vrijdag wordt nog een leuke race tegen de klok.
Jeroen Kuster showt zijn nieuwe lichtgitaar met geluid. Rachael Marszewski doet iets met haar haar.
De in het eerdere postje genoemde galerie met een soort van vierkant als logo heet dus Black Market.
Dagje de toerist uithangen in Millennium Park. Nogal saai en voorspelbaar, The Crown Fountain van Jaume Plensa.
Chinese edelkitsch bij de Boeing Galleries.
Waaronder deze dino met vuurwerkhandjes van Sui Jianguo.
Dan de persoonlijke favoriet, Cloud Gate van Anish Kapoor. Vaak gezien op de foto maar in het echt zoveel beter. Waar de semi interactieve videozut van The Crown Fountain door iedereen wordt genegeerd trekt elke parkbezoeker automatisch naar de Kapoor voor een rondje verbazing en heel veel foto's klikken.
Het Jay Pritzker Pavilion van Frank Gehry.
En zo kom je al wandelend een heuse Pedway ingang tegen! Helaas was deze gesloten want zondag maar daardoor ga je wel opletten of je er nog meer ziet.
En jawel, tijdens het vorige bezoek liep Trendbeheer daar tussen de hotelbagage door.
Niet in de Pedway maar gewoon op een plein, Amerikanen doen alsof ze Japanners zijn en organiseren een Duits getinte kerstmarkt.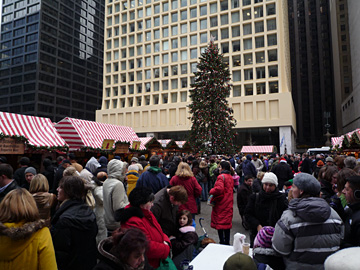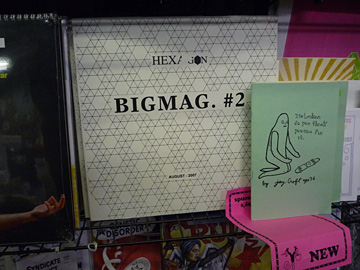 En tot slot een bezoekje aan de mooiste boekhandel van Chicago, Quimby's. Met pront aanwezig in de schappen Big Mag #2 van de Player uit Rotterdam.
Vandaag maar eens beginnen met inrichten, we houden u op de hoogte.