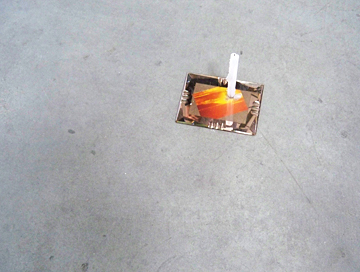 Detail van gesamtkunstwerk 'EAT MORE CHIPS' van Ernesto Canovas, Paulina Michnowska, Gabriele Beveridge, Paul Kneal & Raphael Hefti van Slade School of Fine Art in London.
De tweejaarlijkse kunstkermis op het Westergasfabrieksterrein Kunstvlaai AKA de schilderijenloze is weer geopend voor publiek.
Dagelijks geopend van 12:00 tot 18:00. Nog tot 23 mei feest.
Teveel om te zien, teveel om op te noemen. Een onvolledig overzicht:
Zoro Feigl, W139
Animatie carroussel van Rop van Mierlo, Stichting KOP
Bonno van Doorn, Judith Vogt, Zwarte Ruyter
Schitterende watersculpturen van Aldo Kroese, Outpost.
Nina Wijnmaalen in kartonnen Kunsthuis Syb
Schitterende stand: Ronald Nijhof bouwde Moira op 50%. Jaime Ibanez en Chris Brans performen en tonen.
"We not only have lost Copyright" NP3
Krankzinnig beeld
Keramiek Anamá Ponce, Sandberg
Auto's op sterk water, Olaf Mooij, tekeningen Robert Adam Gilmour bij Baracca
Sander Reijgers en David Elshout – God is a player – bij Liefhertje en de Grote Witte Reus
Vrolijke koeleurenfotografie, Kirsten Wilmink, Sandberg.
Georgi Tabatadze
Koop een piekbiertje bij de Fabriek en sla het kapot. Piet Bergman, "Scherven brengen geluk".
Liesbeth van Woerden, JCA de Kock.
De klei mee en win een abonnement op de Libelle stand van Mr. Motley.
Openingszaterdag 16:15, twee keer een rij van tweehonderd meter voor de Kassa's. Daar kan de Efteling een puntje aan zuigen.
De harp bespelen op een druilerige lentedag. Op de achtergrond is de rij geslonken tot een kleine vijftig meter. (17:23)
Buitensculpturen/stands.
Grand stand van petit musée Le Secet, Bianca Runge.
Instituto Buena Bista Curaçao,met werk van ondermeer David Bade.
Centerpiece Service Garage.
Hoogtepunt. Hahaha, letterlijk!
Tevreden klanten.
In de hoogwerker (de stand van pietmondriaan / galerie gallery) een privé lezing geschreven door Hedwig Houben gelezen door Michiel Huijben.
Dringen bij het melkmannetje.
Special Opening Party met de NeverPorn Community in Societeit de Sauna bij Planet Art
Bij RC de Ruimte een eerste biertje. (18:03)
Vliegtuiginterieur Saara Vallineva, Sandberg.
(Viermaal standnaam kwijt)
Melanie Bonajo, Hester Oerlemans, Outline
Prachtinstallatie Floris Bovée, P/////akt.
Oscar Prinsen, Instituut voor de Loslopende Mens.
Miguel Angel Melgares, DasArts
Topwerk Danielle van Ark, Saratimtrust.
Woonkamerrestaurant Neandertaler (Ieke Trinks).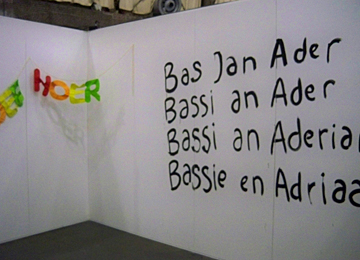 Een kwaliteitsstand van weet niet/vergeten.
Video Irena Paskali voor Petersburg Project Space
Abner Preis en Chipszak on the loose
Een gratis bierdieet bij de totaalstand van Mothership. 'Schwarzwald/Metal Heart IV'.
En om 18:59:51 sluit de ganze Kunstvlaai. Nogal precies afgemeten openingstijden. Men wenst geen Rotterdamse toestanden – denken we dan maar.
Dagelijks geopend van 12:00 tot 18:00. Nog tot 23 mei.
Doen is zien is gaan – en neem vooral alle tijd.