Doel van de avond, een klein biertje (kruidentheetje voor ondergetekende) onder het genot van keivers Abner Preis werk in het Brusselse voor opening van nieuwe launchplatform Harlan Levey Projects te Brussel.be
Met als onvergetelijk startpunt van de avond een haast eindeloze tussentop in geblokeerde lift van, bij en met Happy Famous Artists…
de Lift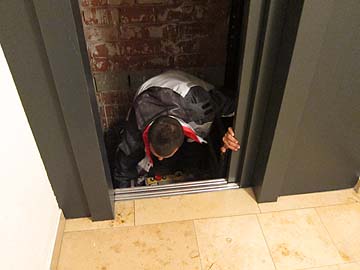 De bevrijdende bevrijder Felix Adelaar verschijnt na een uur met met verlossende sleutel. 4 man (m/v) in een blikken doos op een kleine vierkante meter onder genot van piepalarm is geen pretje.
Happy Famous (to be free) Artists
Maar zoals gezegd, louter prelude voor het grote Abner Preis' Super Helden project.
Volle bak uit binnen- en buitenland.
The artist draagt voor uit eigen werk – met sleutelwoord van de avond "llandsharrk".
Schilderijen, tekeningen, drukwerk, fotografie, keramiek, sculptuur, videoprojectie, performance, documentaire,
ufo's,
vliegtuigen,
bloemen,
life superhelden en de familie Gross.
London Police uit Amsterdam en Will Barras uit London.
Wayne Horse and many many more happy and famous!
Gaat dat zien, Gaat dat zien!
nog t/m 18 november 2010
Léon Lepagestraat 37
1000 Brxl.be