Gisteren de hele dag opbouwen in de RAI en het werd laat.. Vanaf morgen (woensdag 11 mei, 18:00) open voor publiek, de aftrap van 5 dagen Kunst Carnaval Amsterdam.
Trendbeheer is er klaar voor! (stand 009)
Gistermiddag 13:00 in het altijd bruisende Amsterdam.
Kunsttransport per luxe rolcontainer.
Olaf Mooij goes minimal (stand 201 + 085).
De firma Trendbeheer.
De eerste 15 werken in de We Like Art Lounge. De WLA's Carolien Smit en Michiel Hogenboom zijn trots en blij.
Joncquil de Vries en het laatste restje montagemateriaal Niels Post.
Nog 135 werken te gaan.
De overburen, Privee kollektie (stand 40).
Onno Poiesz (stand 007), ondertussen stromen de reserveringen voor For The Love Of Money binnen (JA!).
De kop is eraf, de eerste 2 rijen hangen.
Jeroen Kuster op inspectieronde.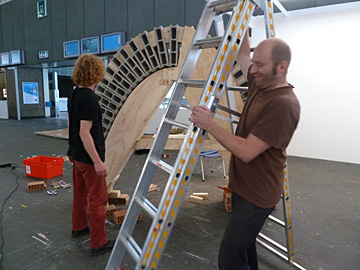 Huzarenstukje bij Galerie West (stand 143).
Pallet Harmen de Hoop (ook bij Galerie West).
"Schitterend, wat kan die Post strak uitlijnen!"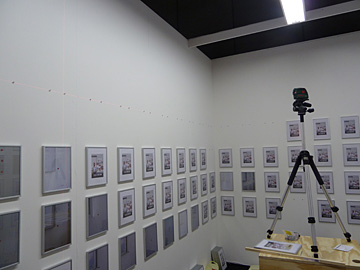 22:00, Bob Smit is klaar voor de dag.
Bob Smit Gallery (stand 007)
Galerie Brandt (stand 031)
22:25 het laatste loodje.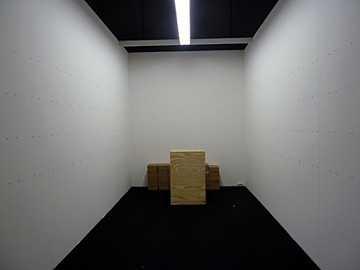 22:50 Klaar! (voor vandaag)
Een prachtig grit van schroeven wachtend op de kunstmarkt.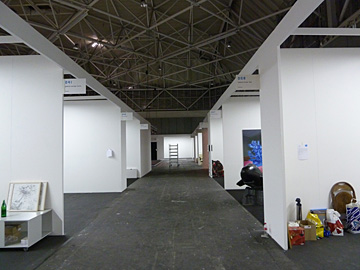 Een inmiddels uitgestorven RAI.
00:40 Rotterdam Centraal, uw correspondent kan wel inpakken.
Ingevoegd 10 mei 23:16, exclusieve opbouwfoto's uit de camera van Tinkebell.
Tinkebell met vos uit haar Amy Taxidermy collectie.
Opbouw Tinkebell, On Amy Taxidermy – From a true fan in de No Holds Barred stand van Torch Gallery.
Olaf Mooij voor No Holds Barred.
Hans de Wit, met op de achtergrond Heden.
Nog meer Hans de Wit.
Stedelijk Museum Schiedam in opbouw.
Torch crew hang lijstjes recht voor Tinkebell.
De eerste enthousiasteling is al binnen.
Galleri Maria Veie uit Oslo.
Twan Jansen met Torch crew (er moest nog even een nieuwe wand gezet en geschilderd worden, dat wordt nachtwerk!).
De suprmARkT van ArtKitchen in opbouw.
enjoy en tot morgen(?)
Looove TINKEBELL.