(, and how to fail gracefully)
Te laat wellicht, maar te Little toch zeker niet, afgelopen zaterdag bij Fort Asperen tijdens de publieke kick-off.
Hier een paar plaatjes van curator/host Jos en ondergetekende in willekeurige volgorde:
Donald Judd voor postduivenrace.
Geinitieerd door Nomeda & Gediminas Urbonas.
Entree via Bijl.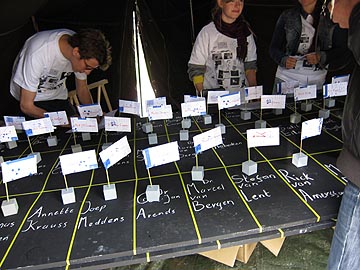 De Warroom alwaar reserveringen voor een tafeltje Blackmarket privé-lezing door specialisten in interventie, infiltratie, conspiratie en andere zaken van zeldzamheid die het daglicht niet vaak publiekelijk zien.
Blackmarket for Useful Knowledge and Non-Knowledge.
(publiekstribune)
Was u er niet bij, zet dan nu gelijk in uw agenda want nogmaals in het Fort op 3 September.
Alfred Heineken (de enige echte), met zijn Eurotopia. Alleen daarom al een rit naar Asperen waard!
Lara Almarcegui
Nomeda & Gediminas Urbonas (plastic zakken als glas trofeeen, vers geblazen in Leerdam: de Fort Asperen Cup)
Jasper Niens kloppend hart.
Navid Nuur
Otto Karvonen's beautiful/horrific vreemdelingen-vogelhuisjes (monumenten voor het ware gezicht van Neerlands contemporaine architectuur als je 't mij vraagt).
Pilvi Takala als Sneeuwwitje.
Maurizio Battalan treedt een achterkamertje van Jeroen Jongeleen binnen.
3 juli, 21 augustus, 25 september geeft uw gelegenheids-correspondent als professionele gids rondleidingen door de verborgen stadscollectie.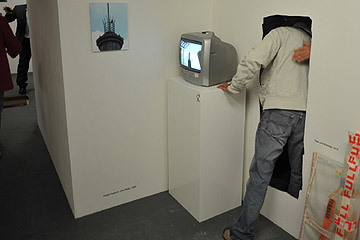 Exit through the giftshop.
Met z'n allen op een rijtje:
Bik van der Pol rekruteert voor deze operatie internationaal uit verschillende gelederen. Denk aan Lara Almarcegui, Tarek Atoui, Marc Bijl, André Cadère/ Alain Fleischer, Critical Art Ensemble, Teddy Cruz, Martijn Engelbregt, Tim Etchells/Vlatka Horvat, Harun Farocki, Zachary Formwalt, Freddy Heineken, Runa Islam, Jeroen Jongeleen, Otto Karvonen, Jasper Niens, Navid Nuur, the Mobile Academy/Hannah Hurtzig, Cesare Pietroiusti, Åsa Sonjasdotter, Hito Steyerl, Pilvi Takala, Javier Telléz, Nomeda &Gediminas Urbonas, The Yes Men, Artur Żmijewski. Atelier Hofland en de 'Blackmarket for Useful Knowledge and Non-Knowledge, Defense Lines' van the Mobile Academy/ Hannah Hurtzig.
De tentoonstelling loopt nog t/m 25 september.
Goede groet,
JJ