Frame was introduced 2 years ago as a part of Frieze artfair and presents solo shows of artists from galleries no older than 6 years. This year's Frame galleries selection was particularly strong, with many great projects to see. We made a selection of 6, from the 25, which we particularly loved.
Starting with Czech artist Eva Kotatkova, presented by Hunt Kastner gallery from Prague.
(Guestreport happy famous artists)
Eva Kotatkova's work explores the phenomenon of social structures and the individual's often unsuccessful attempt to fit within these structures. In her installation shown at the fair and titled Parallel Biography (2011) she focused on a condition known as identity disorder.
With collages from retro photographs, schoolbooks, drawings and old school furniture, she presents a fictive story of an individual who creates parallel identities as a way of coping with society.
Andra Ursuta's self-representations
Andra Ursuta's presentation @ Ramiken Crucible was one we really looked forward to, and were not disappointed. The Romanian-born and NY-based artist deals in her work with her Romanian heritage and with self-portait as an artistic expression.
Her installation consisted of 4 pieces: Crush (see above), a life-size cast of her own body made our of rubber and covered with splashes of artificial semen.
A stack of multicolored stools, with seats shaped in the form of the artist's upturned ass.
A self-made Romanian flag with a burned image of the artist performing oral sex on a tree.
An old scythe morphed into a modern bike, ready to be ridden by the Messenger of Apocalypse.
Rossella Biscotti's Fragile Beauty with Troubled Past
What looks like beautiful fragile cut-outs from pressed sheets of some precious metal, turns out to have a much darker history. As it is often the case with Rossella Biscotti's installations, beauty turns bitter once you hear the story behind, yet – curiously enough – the initial fascination element only increases.
The inspiration for her work @ Frame, presented by Rotterdam gallery Wilfried Lentz, were the general conditions of imprisonment and the repressive mechanics (physical as well as psychological) of state institutions on an individual. To materialize these concepts, Biscotti extracted and transported 100 kg of lead sheeting from the floor of Santo Stefano prison (the first of its kind built for life imprisonment) with the imprints of the original floor still clearly present on the surface. The resulting sculptures are frightening and alluring at the same time.
Documentation of the entire process is a part of the presentation.
The Pervasive Element by Elena Bajo
Brussels' gallery D+T Project took a leap of faith in their artist Elena Bajo (born in Spain, lives in Berlin & LA) and gave her carte blanche for her presentation @ Frame.
Bajo decided to create site-specific work consisting out of leftovers from the Frieze Art Fair tent's construction and such draw the attention on objects integral to the fair, but usually invisible in its final stage. The result is a sculpture (or a painting, when spread out on a wall) from a rolled-up cardboard paper that has been used to cover the floor while painting the walls of the fair. This purely practical object becomes thus a comment on the art fair, the art business and the art practice.
As the process of making is of equal importance as the end result, in this type of work, Bajo has documented the work by taking each day a picture and showing it on a random page of a newspaper.
Nilbar Güres' Open Phone Booth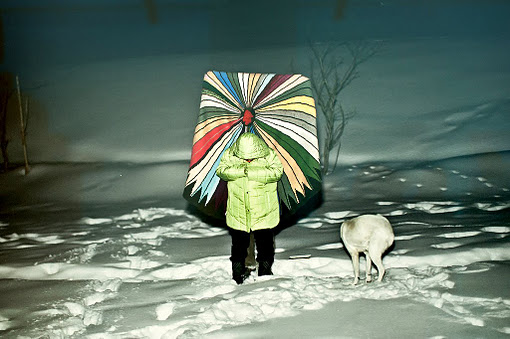 Having opened only year and a half ago, Rampa gallery has already built a strong position on the Istanbul's contemporary art scene. At Frame they present young Turkish artist Nilbar Güres, whose work primarily deals with issues of Turkish Female identity.
Güres sets up theatrical scenarios where women, herself included, flirt with stereotypes only to evade them with humour and self-poise. As an example: in Undressing (2006), Güres methodically unwinds layers of scarves from around her head, citing the name of each individual who gave them to her.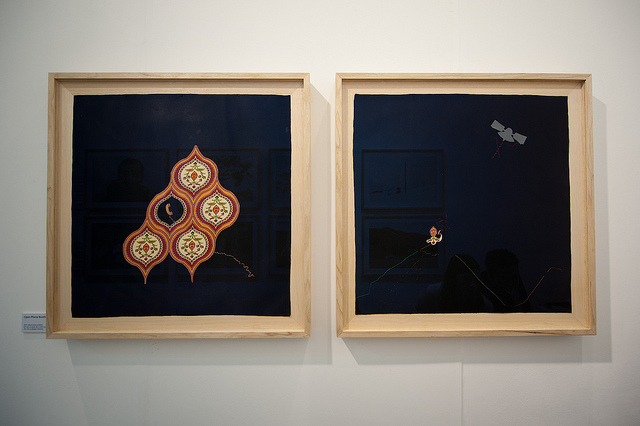 happyfamousartists.blogspot.com/
All Frieze pictures:
flickr.com/photos/happyfamousartists/sets/72157627884094856/