Vooraleerst: het was een genot om howdoyousayyaminafrican? de afgelopen maanden te gast te hebben in Het Wilde Weten, ook mijn werkplek. De Yams brachten een aangename vibe binnen. En salie mede. Rieken als Bronson.
Met de opening in WdW vielen de fragmenten op hun plaats: een letterlijk volledig zwarte verdiep met kras werk en veel performatieve actie. Het contrast met de verdiep erboven kan haast niet groter: die is witter dan wit, als vanouds haast.
Misschien zijn twee seperate beeldimpressies beter – tegelijk maakt het een-tweetje veel duidelijker waarom de huidige koers van WdW zoveel interessanter is dan eerder. Experiment en dimensie krijgen een plaats naast inlossing van institutionele verwachting of verplichting.
Over beide tentoonstellingen valt veel te zeggen, aan te merken ook.
Rossella Biscotti goes über-esthetisch. Data in tapijtvorm. Oogt lekker en met gratis inhoud.
Je kunt David Jablonowski altijd bellen. Heb je nog iets nodig met een metalen plaat, een kopieermachine, ongemak en ruis gerangschikt? Hij is de man.
De tentoonstelling is als vaker voorbeeldig gespiegeld – ook twee muurschilderingen, een links en een rechts van de ingang. Hier de IS onthoofdingsvideo. Navine G. Khan-Dossos. Wordt gedurende de tentoonstellingsperiode overgeschilderd.
Heel mooie foto's uitdovende televisieschermen Stephan Tillmans.
Links de grote glimmenden, rechts een serie kleine matte. Voor elk wat wils maar de kleine matte zijn mooier.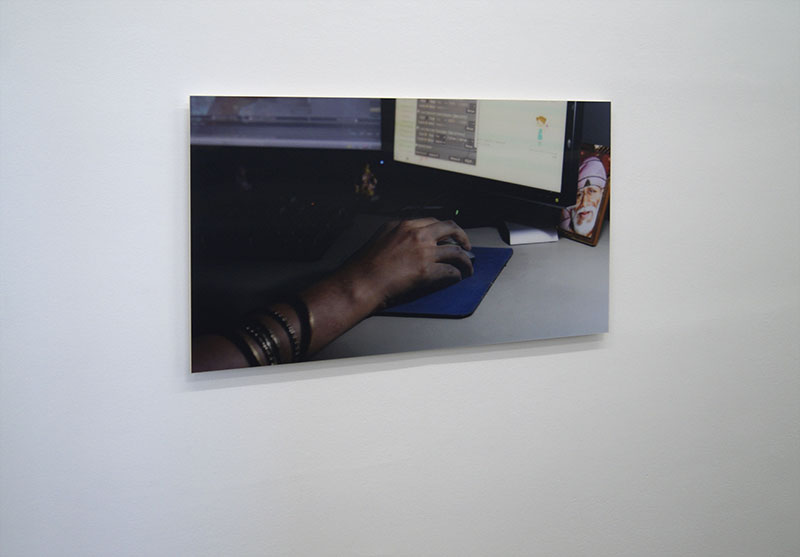 Centraal bij binnenkomst outsourcing in India als een in China geprinte gif. Misschien wel het slapste werk van de tentoon. Lucy Raven.
Je kunt David Jablonowski altijd bellen. Heb je nog iets nodig met een metalen plaat, een kopieermachine, ongemak en ruis gestapeld? Hij is de man.
Spiegelpret. All your tabletphones are belong to us. Antonia Hirsch.
Onbegrijpelijke lichtbakken Femke Herregraven. Would-be dataporn resulteert in namedropping. Het werk gaat over high frequency trading. Sommige werken zijn zo voorspelbaar ingebed in de tentoon dat je er bijna van moet huilen.
Absoluut hoogtepunt: Aram Bartholl toont briefkaarten met wifi-passwords. Zou je ze mede mogen nemen, als boomerangkaarten?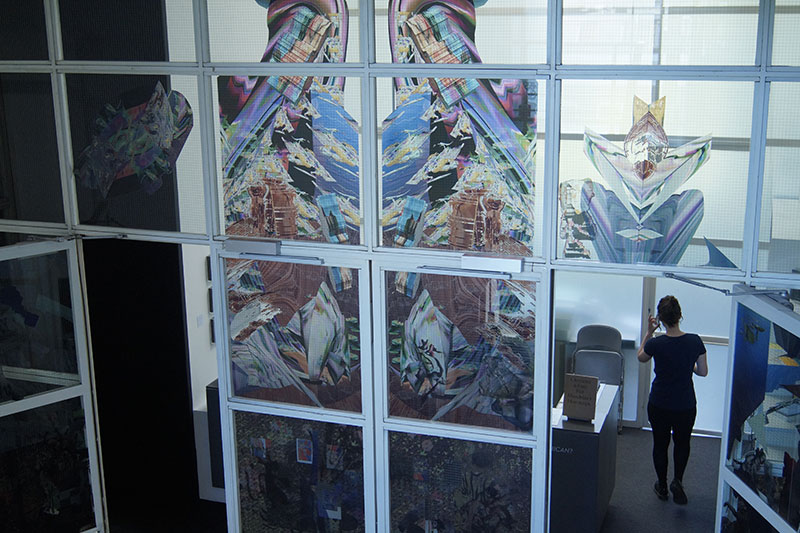 Dan naar beneden alwaar de ganze verdiep zwart is geschilderd. En donker: de fototjes zijn apart.
Kruip eens in een doodskist (benen eerst) en laat het geluid door je heen gaan.
Penisdoeken.
Ferguson et al vids
(hard ingeflitst)
Klankschaalperformance bij de entree beneden
Tattoo met geluid.
Belhokje
wdw.nl/event/art-in-the-age-of-planetary-computation
&