(Eindejaarslijsten worden hier traditioneel pas 31 december gepubliceerd – maar uh – misschien nog net op tijd voor kerst? Dit boek moet onder de boom.)
Superlatieven schieten te kort om dit prachtboek aan te prijzen. Wat een publicatie/meesterwerk/must have.
Relevant, inspirerend, intellectueel provocerend en het ziet er ook nog eens kei- en kei-goed uit.
De vuistdikke bundel PseudoNationalGeografics glimt en glanst je tegemoet. Het is alle 500 pagina's dik schitterend vormgegeven: Hendrik-Jan Grievink en Koert van Mensvoort alle lof. Met dank ook aan de vele kunstwerken die die het visueel sprankelende feest nader opluisteren en diepte geven.
Maar het is meer dan oogsnoep. Het raakt een keur aan actuele thema's, gaat over nu en staat inhoudelijk als een huis. Door de andere invalshoek en door de bundeling van thema's verwondert het en roept het vragen op.
Zien is geloven, een bijna willekeurige greep uit veel, veel en veel meer om u een indruk te geven:
Hé, die kennen we.
Femke de Vries plastieken tas van leer.
Gezaag over de euro hebben nu wel gehad. Op zoek naar een relevantere munt.
Het is voor het eerst dat ik zeg 'Beter dan de website' – waar ik NextNature online ook hoog heb zitten. Alles in het boek heb ik daar al in een of andere vorm langs zien komen, maar zo gebundeld krijgt het meerwaarde.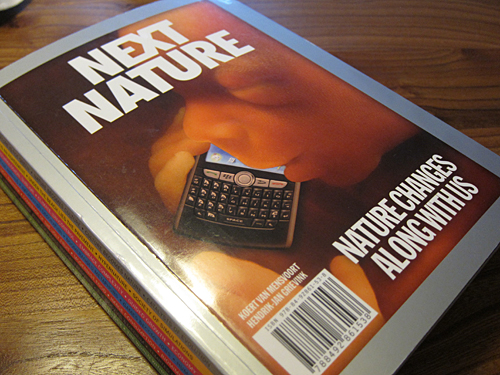 Kopen! Voor uzelf en voor een ander. € 37,50 in de winkel of op een internet bij u in de buurt.