"Animatiefilms, strips, cartoons…. ze zijn niet vaak te zien in een museum voor hedendaagse kunst."
Strips en cartoons horen in boekjes en filmpjes op de wereldwijde kijkbuis. Zou je kunnen zeggen. Alle mooie zalen oudbouw van het Van Abbe zijn nog tot zeventien november gevuld met museaal correct tekenwerk.
"politiek incorrect […] wil bezoekers prikkelen om sociale conventies ter discussie te stellen […] De werken zoeken de grenzen op; ze zijn bizar, provocatief, soms grof, overdreven of lelijk."
Kortom business as usual als je dat zo leest.
Edoch en voorwaar: men zette een Kentridge op in de kelder en dat is gans andere koek.
Om maar met de deur in huis te vallen: wie The Refusal of Time bij de Documenta miste – door stevige rijen wachten of anderszins ongemak – kan in het Van Abbe zijn hart ophalen.
Muziek, animaties, projecties, beelden in het duister: prachtig.
En verder: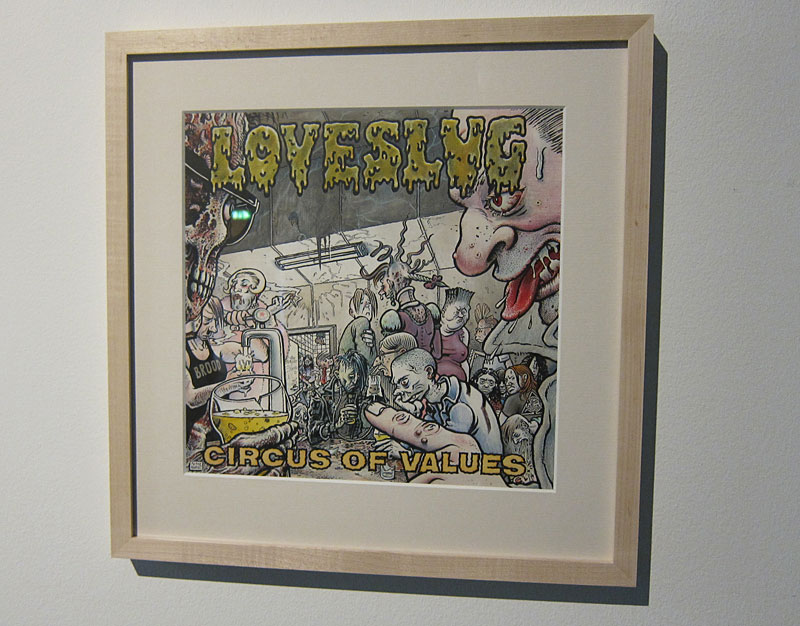 Peter Pontiac
Greg Irons en Tom Veitch
Ton Smits
Prabhakar Pachpute kamerbreed.
Fraai gelijst en gehangen gelijkt als heuse kunst: Sue Coe.
Gezellig zitje met iPads. Project van het jaar Picasso in Palestine verstript door Michael J. Baers. Het is dat ik het niet bekeken heb, anders had ik misschien iets geschreven over treurig en krampachtig.
Keurig en adequaat zo te zien. Door de oogwimpers Gregorius Nekschot style, die daar deze tentoonstelling politiek incorrect en provocatief, grof en overdreven wenst te zijn node gemist wordt.
Greg Irons en Tom Veitch
Extrastruggle
Film Philippe Grammaticopoulos
In de doorgang en niet behorende bij Black or White de strips van Immendorf. Zeker in retrospekt vooral kleurrijke figuratie, weinig patat.
Hoekje edukasie.
Chantal, 47 jaar.
Maar Kentridge dus. Ook uit fijn; zie die borden.
vanabbemuseum.nl/browse-all/?tx_vabdisplay[…]ay_pi1%5Bproject%5D=1127