Etalagegalerie Inkijk –een initiatief van stichting Polderlicht– toont sinds jaar en dag 'eigentijdse en eigenwijze' kunst in drie verschillende Amsterdamse metrostations. Exposities wisselen elke twee maanden. Dit keer is de beurt aan Wim Vonk, Mathieu Klomp en Erik Alkema.
(een bericht van John Prop/stichting Polderlicht)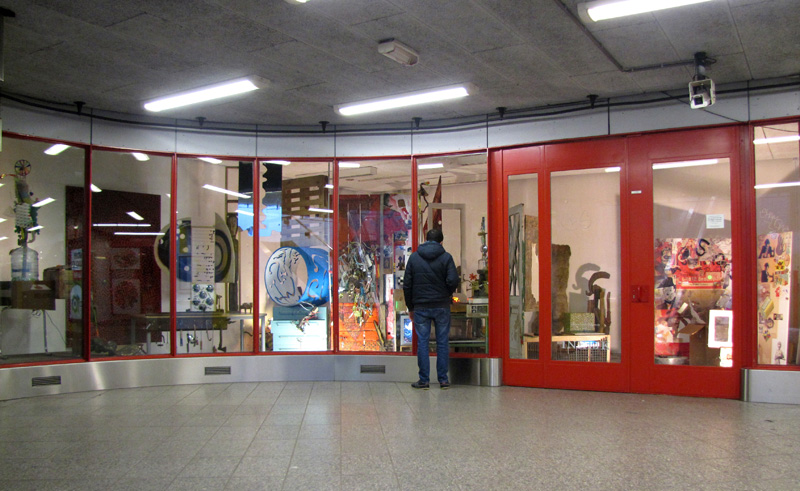 Duizenden passanten per dag, maar de meesten hebben haast. Daarom geen conceptuele of al te minimale kunst in deze 'underground-galerie', maar grote, kleurrijke sculpturen en/of installaties die opzichtig naar des reizigers blik lonken. Zoals het ruimtevullende bouwwerk van Wim Vonk in metrostation Waterlooplein.
Een reconstructie van een illegaal naaiatelier bestaat ondermeer uit een oude werkbank, een vintage stereomeubel, verschillende lampen en lichtbakken, diverse percussie-instrumenten, tekeningen en schilderijen, Afrikaanse maskers en ander etnografisch spul, en een afgetrapte naaimachine. Een zorgvuldig opgebouwde constellatie van curiosa, die Wim gedurende vele jaren heeft gevonden, geruild of gekregen.
Wim Vonk heeft duidelijk een gezonde tik van de Tinguely-molen meegekregen.
Vol met spannende details. Alsmede beweging, zoals te zien op dit filmpje.
In metrostation Weesperplein staat een uiterst knap gemaakte sculptuur van Mathieu Klomp: Herdenking I.
Het uit gesmolten krimpfolie opgetrokken werk is een variant op het oeroude gegeven 'standbeeld'.
De ruiter (held? schurk?) staat op het punt staat zijn paard te bestijgen..
maar het paard graast door alsof er niets aan de hand is. Van heroïek is hier geen sprake.
Een heel ander soort beest in metrostation Wibautstraat. Erik Alkema maakte Licensed To Kill One, een enorme, uit fleecestof opgetrokken giraffe. Het zachte babyblauwe beest sméékt zowat om geaaid te worden, maar wie heeft die lieve knuffel onthoofd?
Deze werken zijn te zien t/m 4 juli a.s.