Chris Ofili – Paradise Lost

The world was all before them, where to choose
Their place of rest, and Providence their guide:
They hand in hand, with wandering steps and slow,
Through Eden took their solitary way.
—John Milton, Paradise Lost, Book XII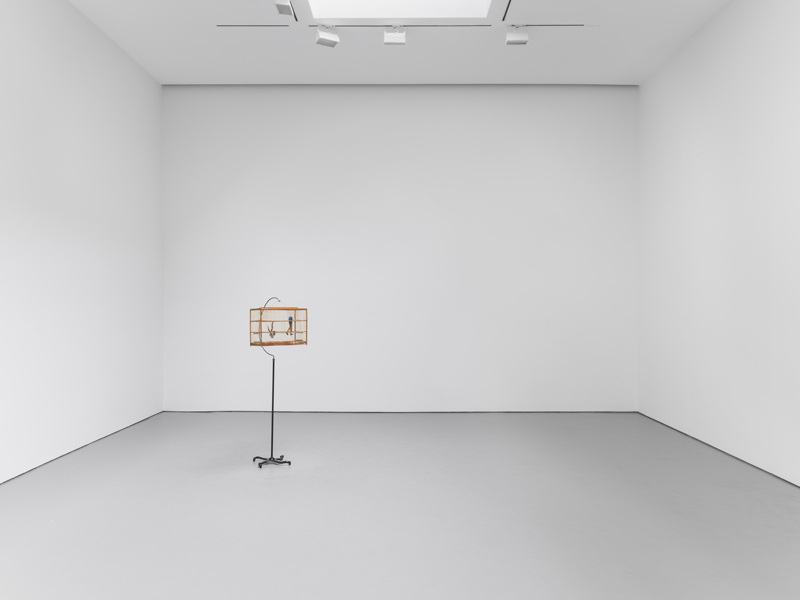 De eerste ruimte die je in loopt zie je een vogelkooi met daarin delen van een uiteen gereten lijf. Als je de volgende ruimte in loopt loop je om een stalen traliekooi heen met in de kooi 4 zwart/witte schilderijen. De muren van de ruimte waarin de kooi staat zijn beschilderd in grijstinten met exotische planten en figuren die aan goden doen denken. Ze kijken vanachter eenzelfde stalen omheining (maar nu geschilderd) naar ons. Omdat de ruimte waarin je om de kooi kan lopen maar een meter breed is tussen de omheining en de muur, voel je heel beklemd en realiseer je je dat je toeschouwer bent van wat er in de kooi gebeurt, maar dat jij zelf ook in een kooi zit. Wat een briljant werk, zo simpel eigenlijk! Toegang is privilege. Wie heeft toegang en waartoe?
Molting, (detail), 2017, Wood and gold-plated wire, 14 7/8 x 19 1/2 x 10 inches (37.8 x 49.5 x 25.4 cm).
14 september – 21 oktober, 2017
David Zwirner Gallery
533 West 19th Street, New York
(let op: er is ook een David Zwirner op de 20e straat dat is een ander filiaal!)
foto's: EPW Studio Maris Hutchinson met dank aan kunstenaar/David Zwirner Gallery
ICE Melt
Begin deze maand eindigde Trump het DACA programma. DACA is een tijdelijke beschermingsstatus aan ongedocumenteerde personen die naar de VS kwamen als kind. Op dit moment zijn er ruim een miljoen zogenaamde "Dreamers", die van deze regeling gebruik maken die nu gedeporteerd kunnen worden door de U.S. Immigration and Customs Enforcement (ICE). Kunstenaar en antropoloog Abou Farman is onderdeel van de New Sanctuary Coalition in New York die ondersteuning bied aan personen die gevaar lopen. Afgelopen 14 september organiseerde hij met kunstenaars Michelle Castaneda en Mauricio Higuera ICE MELT "een wake".
De kunstenaars hakten blokken ijs en dreamers deelden ervaringen en verhalen met het publiek.
Hierna kregen alle deelnemers en bezoekers een plastic poncho aan en droegen de gehakte blokken ijs in een processie naar het opvangcentrum waar te deporteren personen ondergebracht zijn en worden.
Deelnemers lieten het ijs op de grond vallen en smelten en plaatsten hun handen op de muur van het gebouw terwijl ze namen van de te deporteren personen reciteerden.
De vrijplaatsen zijn op het moment erg onder de aandacht vanwege DACA maar in gesprekken met Farman (die zelf een Canadees paspoort heeft) laat hij weten dat de vrijplaatsen voor alle immigranten met problemen zijn. Zo is er in de kunstwereld het O-visa (buitengewone vaardigheden). een regeling voor die voor kunstenaars komt te vervallen en alleen geldig blijft voor wetenschappers en technologen. Ook werkvergunning en permanente verblijfsvergunning(=greencard)houders die al jaren in Amerika wonen en werken en afkomstig zijn uit landen die op de ban lijst (komen te) staan zijn om verschillende redenen zijn in gevaar. Zodra hun werkvergunning of greencard verlengd moet worden (meestal iedere 3-5 jaar) zal men dit weigeren omdat de aanvragers niet langer kwalificeren als hun land op de lijst staat.
foto's: Hrag Vartanian
Grafted Populist
John Sonhouse – Masked Reduction
De enorme figuratieve doeken van Sonhouse van figuren die je recht aankijken zijn sterk en maken gelijk indruk, ze provoceren. De werken borduren voort op een eigen visuele taal die hij in de loop der jaren ontwikkeld heeft en ook hier gebruikt hij weer het harlekijn patroon met felle kleuren die als een masker over de figuren heen, die zijn werken herkenbaar Sonhouse maken. Terugkerende elementen zijn de cowboyhoed waar de figuur zich enigszins achter verschuilt die stijl en "swagger" geven en een fonkelend wit gaaf gebit die onmiddellijk doet denken aan de paardenverkoper die de tanden van zijn paard laat zien als bewijs van gezondheid en kracht. Het gebruik van collage, hij gebruikt schetsen, lucifers, en gesoldeerde paperclips, in de schilderijen geeft het nog meer energie en dynamiek.
Wobbling Occupants Ripe for Distortian
Stones in my Path (detail)
Rhetoric Reflux
14 september – 28 oktober, 2017
Tilton Gallery
8 E 76th St
New York, NY 10021
foto's: met dank aan kunstenaar & Tilton Gallery