Phillip K. Smith III is een lichtkunstenaar die veel grote prachtige installaties maakt, vaak ook tijdelijk. Hij woont en werkt in Palm Desert, Californië en ik ga op studiobezoek bij hem tijdens mijn trip naar de woestijn voor Desert X waar in 2017 zijn werk The Circle of Land and Sky te zien was.
Hij heeft twee enorme loodsen waar hij deels in werkt en op het moment van mijn bezoek deels werk in presenteert. Zeker nu tijdens Desert X veel van de kunstprofessionals die naar de biënnale komen ook bij hem langs gaan. Verder heeft hij een kantoor en ruimtes waar hij technologie in test. Hij heeft een aantal medewerkers die met hem werken in diverse functies.
Hij werd jarenlang door een galerie gerepresenteerd maar nadat hij zich realiseerde dat de galerie vooral werk verkocht aan mensen die hij zelf naar ze toestuurde besloot hij het contract op te zeggen en alles zelf te doen. Sinds kort geeft hij ook om de zoveel maanden een nieuwsbrief uit, ook in print, de grote verzamelaars en opdrachtgevers hebben geen tijd voor sociale media die willen gewoon ouderwets drukwerk en email. Binnenkort vertelt hij tijdens het bezoek is hij van plan ook andere kunstenaars te presenteren in zijn ruimte.
Smith III is blij met het wonen en werken in de woestijn.
"No way"
dat hij de ruimtes zou kunnen hebben die hij nu heeft als hij in Los Angeles zou zitten. De loodsen zijn gigantisch en hoog wat een enorme luxe! In Rotterdam, London of New York zou het een broedplaats zijn waar ik honderd kunstenaars in zogenaamd betaalbare ateliers zou kunnen bezoeken die daar aan het werk zijn…
Kantoor met uitzicht.
Kantoor, to do list.
Toch fijn om zo een uitleg over je werk in je werkplaats te kunnen geven.
Uitvinders lab.
Werk presenteren voor studio bezoeken, anybody..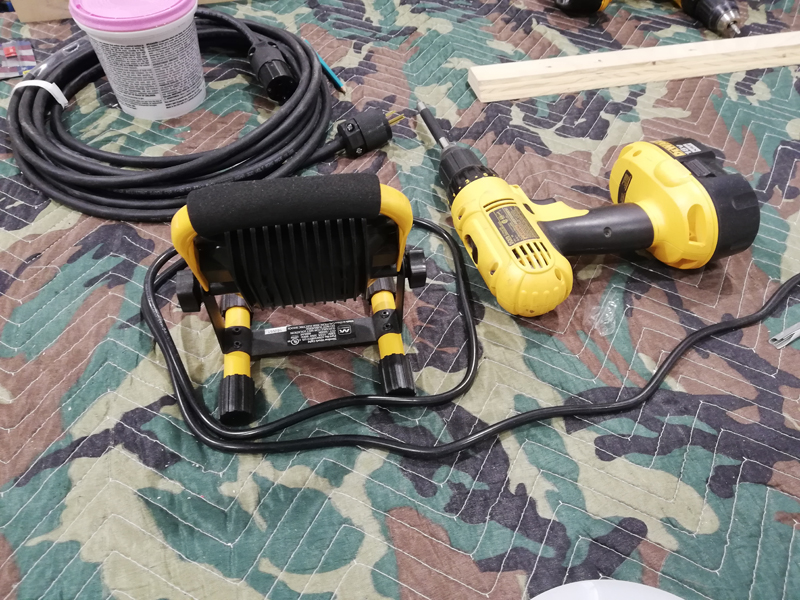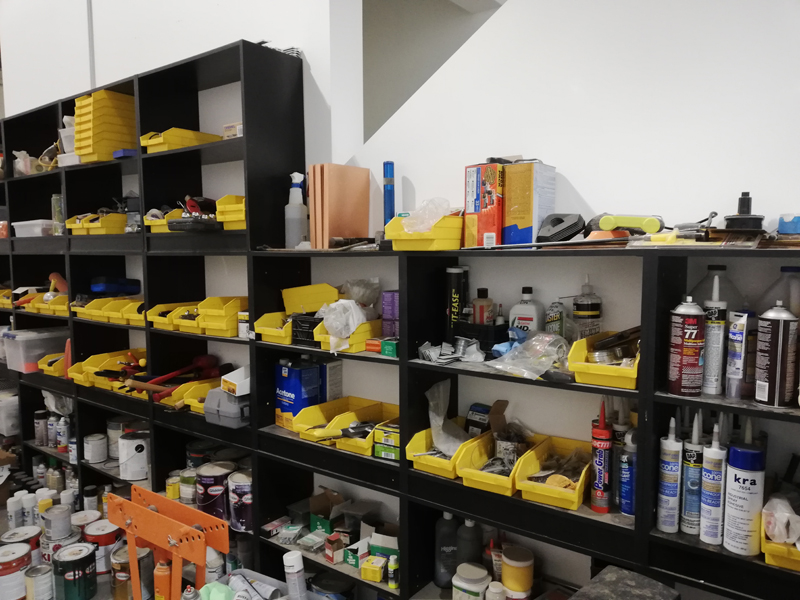 Phillip K Smith III met goudsmit/ontwerper Heather Patterson
Phillip K Smith III heeft een BFA in Beeldende Kunsten en een BA in Architectuur, beide van de Rhode Island School of Design (RISD). Hij woont en werkt in Palm Desert met zijn eigen bedrijf PKS3. Zijn installaties zijn internationaal te zien, zo was het werk Open Sky vorig jaar nog te zien tijdens de Salone del Mobile in de Palazzo Isimbardi in Milaan.
PKS3 Studio & Gallery
34330 Gateway Drive, Unit 100
Palm Desert, CA 92211
Telefoon: +1 760 342 4111
Email: info@pks3.com