BADGAST – cultuurcontainer aan zee staat op FAST (Free Architecture Surf Terrain). Esther Kokmeijer was er drie maanden te gast.
"Tijdens het project 'Six degrees of conjunction – A country does not have to be swallowed by the sea' werkt Esther Kokmeijer vanuit Badgast aan het schrijven van 100 brieven."
satellietgroep.nl/badgast_air_sea/1/esther_kokmeijer_badgast
Volgens het 6 degrees of seperation system is iedereen in zes stappen met iedereen verbonden. Dus via zes tussenpersonen moet je – bijvoorbeeld – Obama kunnen bereiken: Esther Kokmeijers's persoonlijke mail delivery system.
Esther schrijft honderd brieven aan haar bekende mensen die ze vraagt om een brief van haar door te geven. Uiteindelijk moeten de volgens Times Magazine 100 invloedrijkste mensen van het moment worden bereikt.
advertentie(s)
Op zich is de uitgestelde personal approach een interessant uitgangspunt. Obama direct schijven – zinloos. Als Obama haar brief uit handen krijgt van een directe bekende is de kans dat de brief gelezen wordt groter.
Even interessant is het gegeven dat die brief via een uitgebreid pad zijn weg moet vinden. Als een soort intiem piramidespel gaat haar aandachtspunt van hand tot hand. En wordt gelezen. En wordt doorgegeven.
Onderwerp van haar brief – die verzegeld wordt meegegeven – zijn de gevolgen van de klimaatverandering, in concreto de verdwijning onder de zeespiegel van de eilandengroep Tuvalu.
Ik heb haar begeleidend schrijven bij haar brief nog niet gelezen. Tijdens haar recidency in Badgast is het concept uitontwikkeld. Als het goed is gaan De Eerste Honderd eerdaags de deur uit.
Hoeveel Tuvalu komt er op haar postpapier? Hoeveel klimaatverandering, hoeveel goede bedoelingen, hoeveel actiepunten? Het concept, de beweegreden, de spelregels moeten worden meegeleverd.
Honderd mensen schrijven honderd mensen schrijven honderd mensen. Actiemanagement in een artistiek jasje.

Times 100 op een containermuur: als u er een (her)kent moet u het zeggen maar ik vond het een obscuur gezelschap. Claire Danes speelde in Terminator 3. Ok. Rihanna haalt sexy outfit uit de kast. Louis CK is een komiek. Redzepi is dè hypekok van de laatste jaren.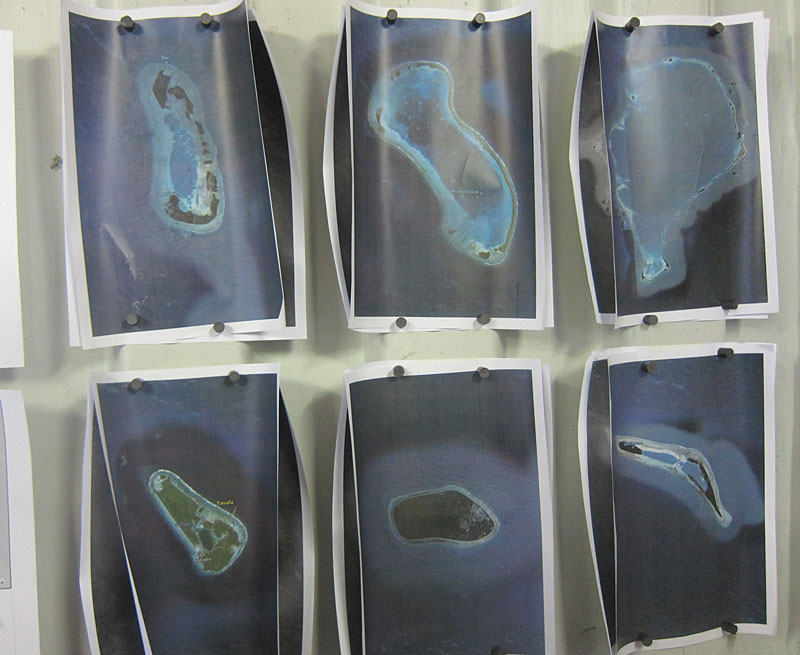 De eilanden van Tuvalu.
Zaterdag 22 juni presenteerde Esther haar plannen tijdens een fijne picknick. Twaalf graden, windkracht achttien.
Wat stervenskoud is voor de tijd van het jaar maar God behaagde tot het scheppen van een stemmig zeedecor.
Vertoning King Tide van Juriaan Booij over verdrinkend Tuvalu.
Eerdere gasten aan de cultuurcontainer aan zee.
Schitterend uitzicht, aan de rafelrand van Scheveningen.
Met de container als atelier/werkplek, de doos erop als slaapplaats is het een van de meer bijzondere residencies in Nederland.
satellietgroep.nl/badgast_air_sea/1/esther_kokmeijer_badgast