"Toonaangevend" ronkt het persbericht. Ik denk het wel. Eigen waar afleverend zag ik een shocking hoeveelheid kwaliteit. Echt heel veel heel goed werk. Waar ik winkeltje vreesde – en het is een winkel – is die kwaliteit fraai uitgehangen. Tot 1500 euro – een uitgelezen winkelshopmoment.
Laagdrempelig – daar moet ik niets van hebben. Drempels slecht men voor invaliden. Van die festijnbeurzen met decoratieve handel – daar heb ik het niet op. Een volwassen beurs is grotendeels niet anders dan een extended version van een festijnbeurs. Wat is er toch mis met het onbehagen van winkeltjes? En is het hier anders? Nee. Maar ja: het is echt een heel fijne selectie kunstwaren. Voor boven de bank – formaat en prijs spelen daar in mede en het is de inzet ook: nope museaal of whitecube en enig concept danwel installatie ontbreekt. Maar kunst naar waar het ook thuis hoort: huis daar hangt het vol mee.
Home is where the art ist. Ik bedoel maar.
Vestigia I, uniek exemplaar
Ik zou in ieder geval mij kopen. 960 inc BTW in lijst en is wel knetterweinig geld voor zo'n prachtproduct. Ik vrees dat die prijsstelling niet lang stand houdt.
(Op Welikeart hangt Seeing out the Angels, oplage drie.)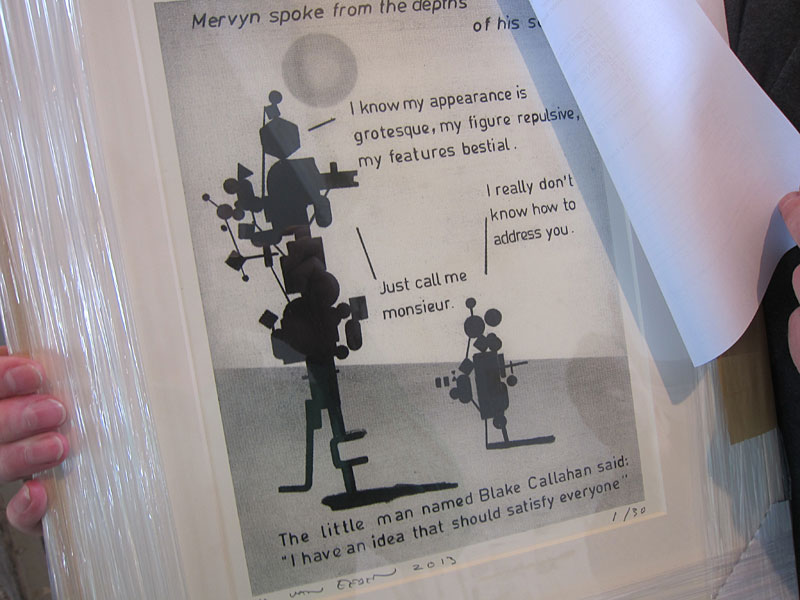 Ow wat mooi… 650…
350.
(In alle gevallen kan ik er een paar tientjes naast zitten.)
1250
Te gek initiatief, wonderbaarlijk goed ingezet.
Carolien Smit is met Michiel Hogenboom Welikeart.
Heb ik al.
Zo wordt het.
Veel kunstwerken gaan een nieuw huis vinden.
Later hier uitgebreid verslag.