Opnieuw toont W139 zich als een van de leukste / beste / spannendste grote initiatieven van Nederland (doorhalen wat niet van toepassing is). De Grote Opbouwshow van Dr Faustus, inpandig en vrij voor inloop spettert nog tot 2 april. Met verf tot aan het plafond.
w139.nl/nl/tentoonstelling/doctor-faustus
Incluis reclame, artvertising, niet alleen op de muren, maar ook in De Groene van 8 april:
w139.nl/nl/evenement/artvertising
Heden kunst te huur. (klik)
Moddervet, sprankelend, geweldig. Als er iets leuk is, dan is het wel het binnenstappen van de grote ruimte Work In Progress van W139. U zult glimlachen.
Kunstenaars: Axel Linderholm, Dick Tuinder, Gijs Assmann, Gijs Frieling, Joris Lindhout, Menso Groeneveld, Natasja Kensmil, Paul Klemann.
DR Faustus is de afscheidstentoon van scheidend directeur Gijs Frieling.
"In dit plan komen een aantal lijnen van mijn curator- en kunstenaarschap samen: de wens om tenminste één keer heel W139 van top tot teen te beschilderen; het verlangen naar een samenwerking tussen verschillende kunstenaars die de obligate verwijzing naar een gemeenschappelijk thema overstijgt en de poging om de wonderlijke angst voor illustratie te overwinnen die de beeldende kunst al meer dan honderd jaar gevangen houdt.

Gijs Frieling"
w139.nl/nl/tentoonstelling/doctor-faustus
Bij de ingang The Title Of The Show, Windows 139, een project van Bonno van Doorn.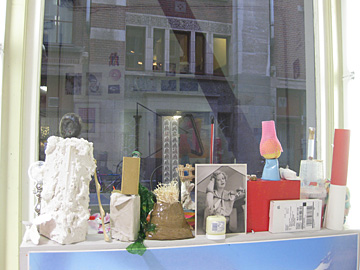 Incluis recentelijk ingebrachte steelvideo's.
Tot twee keer toe is gepoogd werk van de heer Van Doorn uit de etalage te ontvreemden.
w139.nl/nl/tentoonstelling/the-title-of-the-show
En in de voorzaal grote tekeningen van Pedro Bakker, kleurrijke settings in het afgefikte ouderlijk huis.