Adhoc tijdelijke herinrichting Lief Hertje na lekkage
Hoogtij #23, de Haagse Rondgang langs een deel van de vele initiatieven en galeries. Afgelopen vrijdagavond in de smaak herfstweer.
Uitgestorven. Om een of andere reden liep ik zo dat waar ik maar kwam iedereen steeds net weg was.
Nadine Stijns, Lief Hertje en De Grote Witte reus.
grotewittereus.nl/html/exposities/nadine.html
Kipkluiven voor volwassen prijzen
Om de hoek bij Galerie West de kipcorner van Vanmechelen.
The Cosmopolitan Chicken Project – supermooie museale presentatie, gaat dat zien.
galeriewest.nl/site.php?idsub=exhibitions&single=10_10_Koen_Vanmechelen&show=press
Geen kip te bekennen. Waar is iedereen?
Schitterend wandelweer met regen, kou en nattigheid
Daar is iedereen: TAG heropende.
Van strak tot superstrak.
Incluis designstikkers .
Beeld
Opname
En niet te vergeten incluis vers werk van Bram Vreven.
Congrats! Feestelijk heropend na jaren van verbouwing.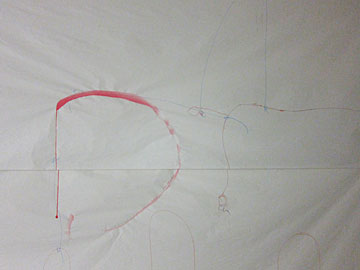 Om de hoek één grote totaaltekening van Jårg Geismar bij Gemak.
geismaraccidentalmeeting.blogspot.com/
gemak.org/archive/2010-09-28/accidental-meetings
Hallo is daar iemand?
Milkwood van Johan Tahon bij Maurits van de Laar
Tekeningen Daniel Jensen bij 1646
Schuilen bij het gezellige elektrieken haardvuur
enter1646.com/projects/cauldron
Walden Affairs met op de benedenverdiep kunstenaarsjournalistiek van Pia Rönicke
Prachtwerk Magdalena Pilko op zolder.
waldenaffairs.nl/index.php?/ongoing/opening-sat-october-16-2010/
Veel volk bij het piepkleine Baracca.
Detail
Nog een detail
Kwaliteitsbier in grotemensenblik- dat trekt volk.
(Todos los Santos, een post-halloweenshow van EX-MÊKH bij Stichting Ruimtevaart heb ik gemist wegens te nat, te gedeprimeerd en het miezerde bovendien.)