Rietveld doet de Tion-show.
Kwam het door het weer, de mensen, het aanbod, de koele club-mate of een combinatie van deze vier dat ik zo aangenaam mild gestemd was? Ik heb me uitstekend vermaakt daar op de Rietveld. Als vanouds veel hoog niveau tussen alle verwarring door. Met hier en daar een Aangename Verrassing. (Keramiek, hahaha.)
gerritrietveldacademie.nl/nl/eindexamen2012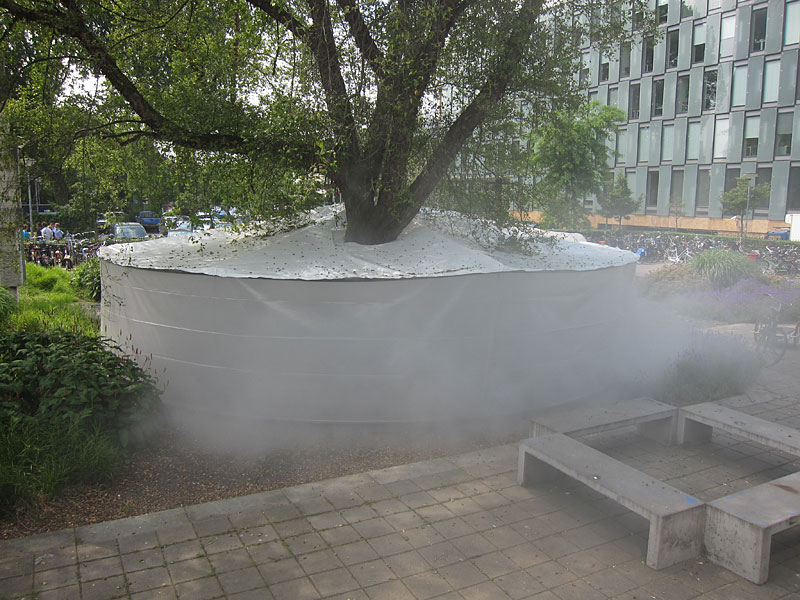 Rookhut Quinten Corbey
Nu en dan lastig te traceren wat van wie is – een veelheid aan studenten die vaak naast en door elkaar werk tonen. Wegwijzering en tekst of uitleg is wel eens wat marginaal – al ligt er in de hoek veelal wel een ansichtkaart of wat.
Interessante werken van Peter Kristinn. "A tree is best measured when it's down". Doet dingen met bomen en sjouwt de documentatie bezien wat af.
Hé het zijn er twee, Peter and Kristinn: peterkristinn.com. Ik dacht al, wat lullen die stereo.
Torfi Fannar Gunnarsson
Video doe ik eigenlijk niet aan – niet te reproduceren meets tijdgebrek (twee keer vijf verdiepingen werk te zien) maar voor Chris Rudz maak ik een uitzondering: fascinerend, charmant, scherp, verhalend en het verveelt niet.
Zie de trailer. (Die wat elementen eruit aaneen smeedt onder andere muziek.)
En prachtvideofoto's (nagenoeg stilstaand beeld) van een man in pak op lokatie.
Thomas Langedijk doet een politieke partij. De Nederlandse Efficiëntie Partij. Met vlaggen en wimpels en nauwgezet Niet Leuk.
Gaat zo samen, lijkt wel een collectief. Ik dacht eerst wat een sterk beeld…
…maar is gevieren zo neergezet door Tim Mathijsen, Johan Henning, Eloise Bonneviot en Hrafnhildur Helgadottir. Niet van elkaar te onderscheiden. Het kan ook ruimtegebrek zijn wat de Rietveld parten speelt.
Mooi, strak, gedetailleerd en ambachtelijk.
Met op andere verdiep handzaam werk van Daniel vom Keller.
Zes ventilatoren blazen piepschuimballetjes de hoek in.
Ondertussen staat er een plant geschraagd op een licht doorzakkende plank.
Gelijkt wel een… gelijkt wel een… (Sorry Simon, ik noem je naam niet.)
Elders roest een staaf weg. Slacker minimalism/eurotrash pur sang van Boyd de Jong. Je zag verder opvallend weinig van zulks. Kunst die sterk op kunst van nu lijkt is eigenlijk kunst van vroeger.
Sarah Glahn exposeert een expositie met oud werk van haar vader.
Vraag Sarah – linksboven – bij gelegenheid ook naar haar even onnavolgbare project/booklet graduations.
Verrassend, verwarrend en heel erg goed. Heeft alleen nogal wat tekst, uitleg en duiding nodig.
Oud werk uit de jaren tachtig door haar opnieuw gefotografeerd. Kelderrestanten van haar vader – geen kunstenaar – en voor deze gelegenheid door hem gemaakt nieuw werk in de pseudomuseale presentatie van zijn dochter maakt de vraag wat kunst is en de vraag hoe werk bestaat bij de gratie van haar presentatie tot onderwerp. Je mag er doorheen lopen.
Tevens een serie portretten van mensen die ze niet kent en die elkaar ook niet kennen.
100 gram rijst, elke korrel apart gefotografeerd. Ola Lanko.
Ventilatoren met vlieger van Jasmin Werner. Groeten uit Curacao / daar gekocht.
Vincent Knopper presenteert sokkels op een verhoging. Zwaar esthetisch dik aangezet niets, een aangename installatie.
Isis Verberk met verschillende projecties.
De presentatie van de afdeling keramiek was grote klasse. Geleek wel kunst. Eens temeer door het nijver zetten van schotten, het breken van de vloer, de presentatie van de objecten. Waar het bij keramiek eigenlijk om de objecten gaat – waar klei je voor – leken die onderdeel van iets groters.
Kees Boevé
Yuliana Taranova Kamerbeek. Ha, eindelijk gewoon klassiek porceleinen pupkes vakkundig gemaakt. En een portfolio met krulletters. Zulks verwacht ik bij keramiek.
Echt heel toffe beelden/sculpturen van Nina Frankova
De potten en pannen van Jacob Gallant Raeder zijn geheel overwoekerd met cres van binnenuit.
Erg sterke presentatie en dan ook nog prachtige fotografie (en een tijdschrift dat ik op het atelier heb laten liggen, ik schrijf nu verder thuis.)
Zelfde ruimte objectivication reversal Nathalie Sternbauer
Glaswerk Marie de Bruyn
De beter ontworpen hakschoen voor ultiem loopgemak van Leanie van der Vyver
Anna Navndrup spande een miljard elastieken touwtjes.
Zodat je aan de andere kant van de ruimte erm niks zag.
Ook ontwierp zij een val: iets met broodkruim, touwtjes en dat dan eieren kapot vallen.
Afdeling juwelen: prachtwerk Richard Elenbaas. (420 euro, oplage tien, tis dat ik geen cash genoeg bij me had.)
Ook heel fraai: zijn bladgouden medailles. Dat speldt lekker op.
Meer juwelen.
Sieraad gesmeedt met al het zilver dat hij van zijn vijftien ex'en kreeg. Onwaarschijnlijk verhaal. Niet zozeer dat van die ex'en, maar van dat zilver krijgen. Het kan: sommigen worden als juwelier geboren en het klinkt goed.
De kleine lettertjes op zijn 2,5 gram goud. (Opklikken voor bijna leesbaar.)
Daphne Koopman deed een soort van Trendbeheer First Virtual Exhibition of Shows maar dan niet tegelijk 25 tentoonstellingen op lokatie maar drie in Hoorn.
Kledinglijn Marieke Greeve vergaat onder invloed van vocht. Deze objecten hangen in een box waar de luchtvochtigheid van de omgeving in getrokken wordt.
Slingerende gloeilamp Julia Amelie (Gaan we later ook nog terugzien in trendbeheer [*=note to self])
Wankel vloertje dat net niet breekt van Maria Gondek. (Max drie personen per keer.)
En in de kelder ongoing performance van Rosa Sijben – objecten worden van hot naar her gesleept.
Bovenstaand vormt een eigen keuze van x uit tig. Persoonlijke favorieten Peter and Kristinn, Chris Rudz, Daniel vom Keller, Vincent Knopper, Jacob Gallant Raeder, Richard Elenbaas maar naar Sarah Glahn ben ik heel nieuwsgierig – wat die gaat brengen in de toekomst en of ik daar weet van ga krijgen.
Nog dit weekend, gaat dat zien.