West – zondag 7 oktober laatste dag, finissage met artist talk en performance Kevin Muhlen & Patrick Bernatchez.
Een tiental platenspelers loopt stukjes Goldberg variations.
Ridder te paard rijdt door de sneeuw.
Bach zelf kijkt er ook wat moeilijk bij.
En daar heb je hem weer linksvoor: de ridder te paard uit de projectie, levensgroot in lightboxen.
In de achterruimte Apparation spectre de 25 tubes, Lost in Time, 2012.
Intrigerend beeld, fascinerende tentoonstelling. Geen touw aan vast te knopen, desondanks sterk geheel en de moeite om snel nog even mee te pikken. Het beste natuurlijk zonder mensen, maar wellicht biedt de artist talk/performance zondag (laatste dag) 14:00 uur soelaas en/of context waar het duiding betreft.
En/of lees de toelichting:
galeriewest.nl/exhibitions/12_08_Patrick_Bernatchez
Wie Superpositional van Masood Kamandy miste op de Documenta 13 Kassel/Kaboel (ik) kan tot 4 november bij Lhwgr terecht.
Het oogt allemaal bijzonder van nu, modisch haast, maar is niet onaardig. Computergestuurd beeldenfeest met hoog hipheidsgehalte.
grotewittereus.nl/html/exposities/2012/masood-kamandy.html
Een heus zwembad bij 1646. Nu ja, gestileerd dan. Maar wel met een liter of 5000 echt water.
Net als bij West: geen touw aan vast te knopen maar net wat minder intrigerend.
"The work of Tobias Sjöberg often starts through ideas around non-embodied definitions, emotions and sensibility in relation to physical sensation."
Bovenstaande wartaal werkt ook niet echt verheffend.
enter1646.com (Geen directe link mogelijk.)
Maurits van de Laar hing nog niet toen ik langs liep. Erik Pape, Philip Akkerman, Rens Krikhaar waren nog in aanbouw.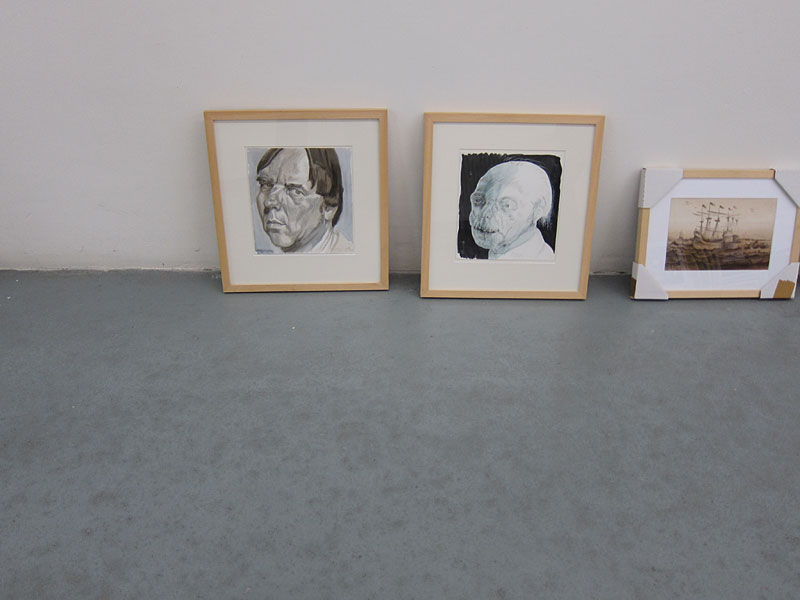 Tekeningen Philip Akkerman. Schilderijen komen in Quartair meen ik. Vanaf wanneer meldt de website (nog) niet, maar iig 26 oktober.
Gedetailleerd tekenwerk Rens Krikhaar.
Schetsboeken Erik Pape.
Opende zaterdag 6 oktober, is nog te zien tot 28 oktober.
mauritsvandelaar.nl/nl/exposities/Pape_Akkerman_Krikhaar

Walden Affairs gaat na de zomerstop weer full force in de weer. Opgefrist en wit geschilderd. Beneden Adam Avikainen met een drie uur durend (waah!) verhaal.
De bovenverdiepingen met Robin Vanbesien. Schilderijen en tekeningen die geen schilderijen willen zijn en schuins gehangen zeefdrukken van gespiegelde foto's.
Opende zaterdag 6 oktober, is nog te zien tot 21 oktober.
waldenaffairs.nl/index.php?/future/opening-6th-october-2012/