De Whitney Biënnale is altijd goed voor veel pers, bezoekers en opinies. Zo ook deze editie. De eerste Biënnale in het nieuwe gebouw, gemaakt tijdens een verkiezingsjaar, houdt de gemoederen weer goed bezig.
We leven in tijdperk waar we socialisme hebben zien afkalven, het fascisme weer zien opkomen, kapitalisme, commercie, individualisme en hebzucht hoogtij vieren en de discussies over wie nu eigenlijk waar hoort en wie zich waar, hoe moet gedragen en wie dat eigenlijk bepalen mag, volledig escaleren.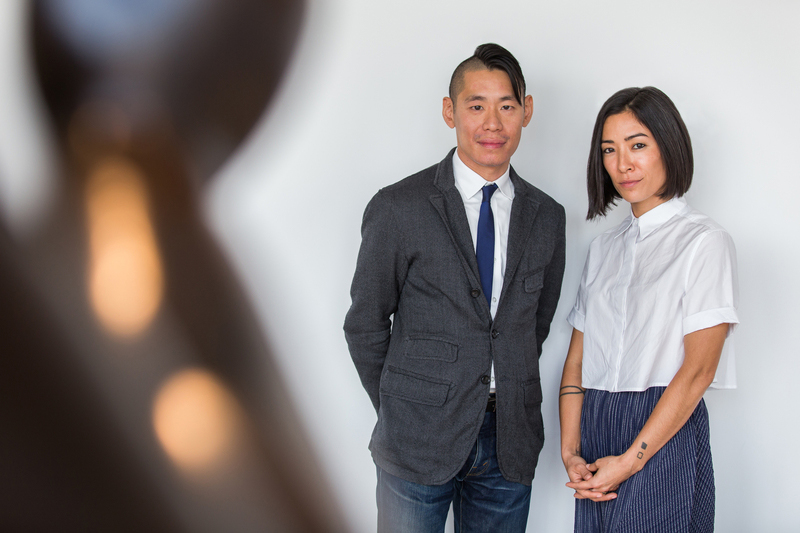 Christopher Y. Lew and Mia Locks.
Curatoren Lew en Locks maakten met iets meer dan 60 kunstenaars een intieme tentoonstelling te zien op 2 verdiepingen. Ook nu weer een biënnale die op de tijd en de samenleving reflecteert, betrokkenheid in de werken, actualiteit en geschiedenis. Wat opvalt is de wel zeer uitzonderlijke inclusieve kunstenaarslijst waardoor de verschillende perspectieven zichtbaar worden en in de (explosieve) 2017 context geplaatst worden.
We leven in het tijdperk van radicalisme, waar het poneren van onze opinie als absolute waarheid de ruimte van het gesprek, de dialoog, empathie, begrip, het woord en weerwoord met geweld overneemt. Het had ons dan eigenlijk niet moeten verrassen dat de inhoud van deze biënnale een petitie, opgesteld door millennials werkend in de kunsten, die opriep tot censuur, boycot en vernietiging van een kunstwerk, tot gevolg had.
Interessant genoeg bracht dit een enorme tegenreactie op gang van andere kunstenaars en activisten uit binnen- en buitenland, die uit eigen ervaring maar al te goed weten dat censuur nooit het antwoord is maar juist het einde van een democratische samenleving betekent. Coco Fusco's essay wat we ook deelden op Trendbeheer is niet alleen geklikt maar werkelijk gelezen door meer dan 100.000 lezers, een voor de kunstenaar en activist, die al decennia lang regelmatig publiceert, een werkelijk ongehoord aantal.
De kunst verhaalt dus niet alleen in deze biënnale maar iedereen vind er wat van. De pers, collega kunstenaars, bezoekers en niet bezoekers, reageren op de kunst/de kunstenaars en op elkaar! Laten we hopen dat er vanuit die kakofonie een aantal goede gesprekken voortkomen waar we wat aan hebben voor de toekomst…
Wat is er zoal verder te zien in de Whitney!?
Installation view of Rafa Esparza, Figure Ground: Beyond the White Field, 2017. Whitney Biennial 2017, Whitney Museum of American Art, New York, March 17-June 11, 2017. Photograph by Matthew Carasella.
Detail – foto Rossen Ventzislavov.
Rafa is een performance kunstenaars uit Los Angeles, die tijdens verschillende performances participanten bakstenen laat maken, vaak van paardenpoep (in een enkel geval van zijn eigen poep). De installatie is op de begane grond net naast het café mis het niet! Het deed me denken aan de eeuwenoude Hopi huizen in Mesa Oraibi die ik bezocht in Arizona.
Detail – foto Rossen Ventzislavov.
John Divola, Abandoned Painting B, 2007. Inkjet print, 44 × 54 in. (111.8 × 137.1 cm). Collection of the artist; courtesy Maccarone GalleEry, New York and Los Angeles, and Gallery Luisotti, Santa Monica, CA.
Collega Divola ook wonend en werkend in Los Angeles werkte met achtergelaten werken van studenten die er niet tevreden over waren. Hij hing ze vervolgens in verschillende leegstaande verlaten locaties in en rond Los Angeles en gaf ze een "nieuw thuis" waar hij een fotoserie van maakte.
Postcommodity, still from A Very Long Line, 2016. Four-channel digital video, color, sound; looped. Courtesy the artists.
Een van mijn favoriete werken, een video vierluik waar je midden in de ruimte staat. Door de verschillende tempo's van de beelden raak je volledig gedesoriënteerd waardoor er een soort paniek ontstaat en je je volledig opgejaagd voelt. Totaal effectief om je het gevoel te laten ervaren van iemand die probeert de grens over te steken en hoe die zich moet voelen, echt waanzinnig!
Raúl de Nieves, detail – foto Rossen Ventzislavov.
De Nieves is niet alleen in de biënnale maar binnenkort ook in Europa te zien in Documenta. Deed mij vooral onmiddellijk denken aan kunstenaars als Nick Cave, Ebony G. Patterson en Kehinde Whiley.
De Nieves, detail – foto Rossen Ventzislavov.
Raúl de Nieves, Somos Monstros, 2016. Cloth patches, fabric, and mannequin, 79 × 26 1/2 × 18 1/2 in. (200.7 × 67.3 × 47 cm). Courtesy the artist and Company Gallery, New York.
Celeste Dupuy-Spencer, Fall with Me for a Million Days (My Sweet Waterfall), 2016. Oil on canvas, 60 × 48 in. (152.4 × 121.9 cm). Private collection; courtesy the artist and Mier Gallery, Los Angeles.
Chemi Rosado-Seijo, documentation of Salón-Sala-Salón (Labra) (Classroom/Gallery/Classroom [Labra]), Escuela Rafael María de Labra, San Juan, PR, August–December 2014. Courtesy the artist.
Een schoolklas is verhuisd naar het museum waar tijdens de bienale de kinderen ook les krijgen en in de schoolklas ergens in de stad staan nu werken (die ik zelf niet heb kunnen zien dus ik kan je er jammer genoeg niets over vertellen).
Tala Madani, Oil on linen. Courtesy the artist and Pilar Corrias Gallery, London.
Installation view of Samara Golden, The Meat Grinder's Iron Clothes, 2017. Whitney Biennial 2017, Whitney Museum of American Art, New York, March 17-June 11, 2017. Photograph by Matthew Carasella.
Ajay Kurian, Childermass, 2017. Foto: Naeem Mohaiemen.
All holes matter …dat laat je dan toch even oncomfortabel stilstaan op de trap. Naeem Mohaiemen schreef over het werk en de aan- en/of afwezigheid van Aziatische kunstenaars in het Amerikaanse museumlandschap.
Installation view of Harold Mendez, These deeds must not be thought after these ways; so, it will make us mad, 2017. Whitney Biennial 2017, Whitney Museum of American Art, New York, March 17-June 11, 2017. Photograph by Matthew Carasella.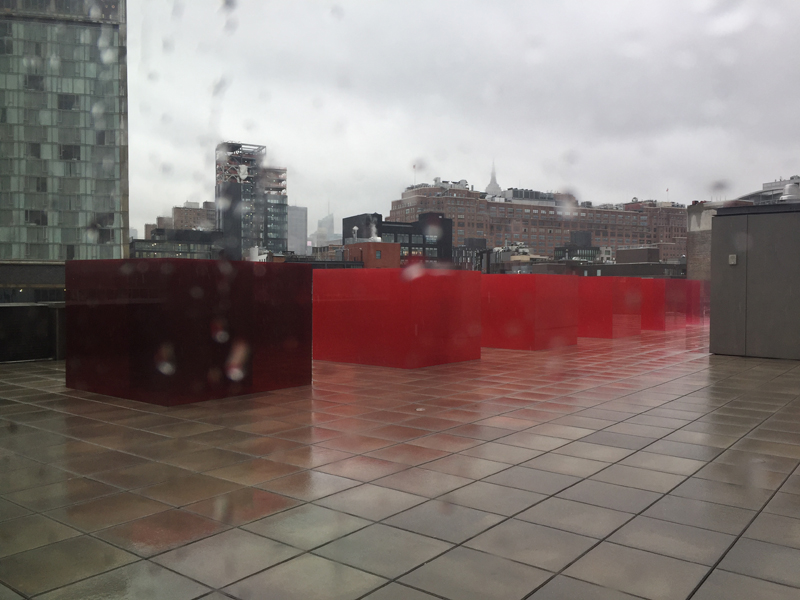 Foto Rossen Ventzislavov.
Nee, geen Donald Judd maar Larry Bell… Er zijn een heel aantal buitenwerken dus zorg dat je gaat kijken als het weer goed is. De keer dat ik er was toen het regende waren de deuren naar buiten gesloten en dan mis je wat dit werk eigenlijk is en doet.
Installation view of Larry Bell, Pacific Red II, 2017. Whitney Biennial 2017, Whitney Museum of American Art, New York, March 17-June 11, 2017. Collection of the artist; courtesy Hauser Wirth & Schimmel, Los Angeles. Photograph by Jayoung Joon.
Installation view during the opening of Pope.L aka William Pope.L, Claim (Whitney Version), 2017. Whitney Biennial 2017, Whitney Museum of American Art, New York, March 17-June 11, 2017. Collection of the artist; courtesy Mitchell-Innes & Nash, New York.
De kubus doet je onmiddellijk denken aan de muren van het Salvador Dali huis/museum. Hier zijn aan de binnen- en buitenkant ontelbare stukjes salami gehangen met portretjes erop waar de druppels vet/olie nog steeds traag van af vielen toen ik ging kijken.
Foto Rossen Ventzislavov.
Installation Occupy Museums, Debtfair, 2017 (2017 Whitney Biennial, March 17—June 11, 2017). Thirty artworks and interactive website. Whitney Museum of American Art, New York. Courtesy of the artists.
Photograph Bill Orcutt.
Asad Raza Installation view Root sequence. Mother tongue, 2017. 26 Trees, UV lighting,
Customized scents, carpet, cabinet with possessions of caretakers.
Collection of the assembled.
Photograph Bill Orcutt.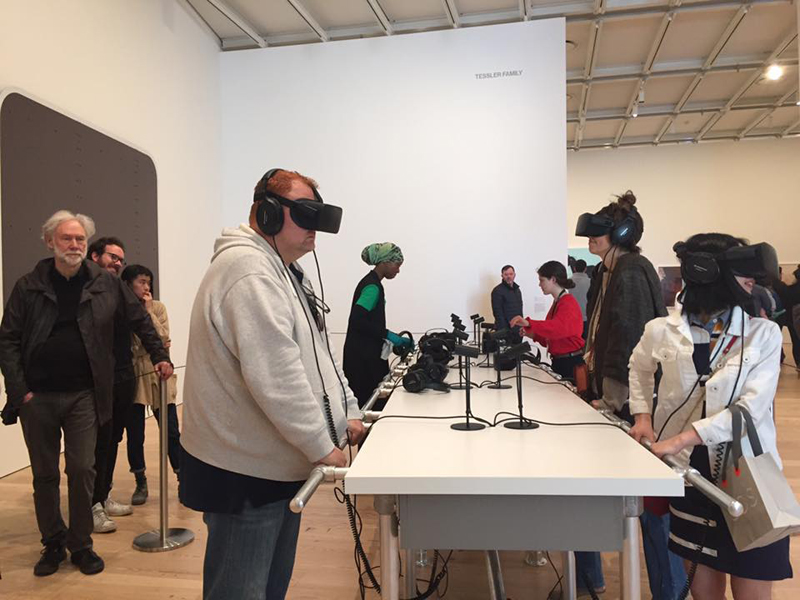 Jordan Wolfson's "Real Violence" (2017).
Er is veel aandacht voor Wolfson. Ik moet zeggen ik heb het niet zo met hem, wat mij betreft laat zijn werk alleen de liefde voor geweld en mishandeling van mensen en de fascinatie voor macht in de mens zien (en voelen). Ik kijk naar Wolfsons werk en denk gast: wat speelt zich af in je ziel?… Hij is mij wat al te enthousiast en dat vind ik eerlijk gezegd super beangstigend en ziek.
Deana Lawson, Ring Bearer, 2016. Collection of the artist; courtesy Rhona Hoffman Gallery, Chicago, and Sikkema Jenkins & Co., New York.
Jo Baer, Dusk (Bands and End-Points), 2012. Oil on canvas, 86 ⅝ x 118 ⅛ in. (220 × 300 cm). Collection of the artist; courtesy Galerie Barbara Thumm, Berlin. Photograph by Gert Jan van Rooij.
Ook de in Amsterdam wonende schilder Jo Baer keert weer terug in de Biënnale.
[arve url="https://www.youtube.com/watch?v=D1IKcRr6c8s" /]
Kunstenaars: Zarouhie Abdalian, Basma Alsharif, Jo Baer, Eric Baudelaire, Robert Beavers, Larry Bell, Matt Browning, Susan Cianciolo, Mary Helena Clark,John Divola,Celeste Dupuy-Spencer,Rafa Esparza,Kevin Jerome Everson,GCC,(Nanu Al-Hamad, Abdullah Al-Mutairi, Aziz Alqatami, Barrak Alzaid, Khalid al Gharaballi, Amal Khalaf, Fatima Al Qadiri, Monira Al Qadiri), Oto Gillen,Samara Golden,Casey Gollan and Victoria Sobel,Irena Haiduk,Lyle Ashton Harris,Tommy Hartung,Porpentine Charity Heartscape,Sky Hopinka,Shara Hughes,Aaron Flint Jamison,KAYA (Kerstin Brätsch and Debo Eilers), Jon Kessler, James N. Kienitz Wilkins, Ajay Kurian, Deana Lawson, An-My Lê, Leigh Ledare, Dani Leventhal, Tala Madani, Park McArthur, Harold Mendez, Carrie Moyer,Ulrike Müller,Julien Nguyen,Tuan Andrew Nguyen,Raúl de Nieves,Aliza Nisenbaum, Occupy Museums,(Arthur Polendo, Imani Jacqueline Brown, Kenneth Pietrobono, Noah Fischer, and Tal Beery), Pope.L aka William Pope.L, Postcommodity (Raven Chacon, Cristóbal Martínez, Kade L. Twist), Puppies Puppies,Asad Raza,Jessi Reaves,John Riepenhoff,Chemi Rosado-Seijo,Cameron Rowland,Beatriz Santiago Muñoz,Dana Schutz,Cauleen Smith,Frances Stark,Maya Stovall,Henry Taylor,Torey Thornton,Leslie Thornton and James Richards,Kaari Upson,Kamasi Washington,Leilah Weinraub,Jordan Wolfson,Anicka Yi. Curators: Christopher Y. Lew and Mia Locks.
Nog te zien t/m 11 juni.
Whitney Museum of American Art
99 Gansevoort Street
New York, NY 10014
P: + 1 212 570-3600
E: info@whitney.org