Traditioneel gefotografeerd met een aardappel, een fotoverslag van drie tentoonstellingen in deze voormalige bierbrouwerij nu omgebouwd tot museale showroom voor hedendaagse kunst.
Zaal 1 Sofia Hultén, een interessante opstelling van videowerk op steigers. Uitgangspunt was de bronzen skulptuur van Futurist Umberto Boccionis uit 1913 "Unique Forms of Continuity in Space"
Ze heeft haar tentoonstelling de titel "Unstable Fakers of Change in Self" genoemd, alle woorden beginnen met dezelfde letter. De werken van Sofia Hultén lijken juist anti-futuristisch.
Haar video's en de constructies lijkt veel toevalligheden en onstabiliteit te propaganderen tussen de diverse installaties en de ruimte zelf.
In zaal twee 'Exhibit Model Four plus invited guest' is een installatie van Jonathan Monk and friends… Mooie opstelling door het effectief gebruik van printed wallpaper en kleine werkjes.
And last but not least in zaal drie; de groepstentoonstelling Behind the screen, geopend 10 maart, met Constant Dullaart, Jonas Lund, !Mediengruppe Bitnik, Gonzalo Reyes Araos, Tristan Schulze, Addie Wagenknecht en Julia Weißenberg.
Digitale kunst zonder digitale showmiddelen. Het gaat hier meer over 'de invloed' van digitale en sociale media op de kunstenaar van tegenwoordig, dus verwacht niet-digitale schilderijen die er uitzien als een instagramphoto, een neon sign dat zinnen vervormd op een captcha 'ik ben geen robot' manier, een 'vaporwave' tapijt en een reclame poster om te investeren in bitcoins.
Interessant wel hoor, maar dat komt vooral omdat deze kunstenaars wel degelijk een invloed hebben (gehad) om nieuwe wegen van de digitale (sub)cultuur om te zetten in een tastbaar en fysiek kunstwerk. Niet altijd even geslaagd maar juist die pogingen maken deze tentoonstelling boeiend.
Constant Dullaart, RGB paintings by Gonzalo Reyes Araos, !Mediengruppe Bitnik, Come chat with me, 2 leuke werken van Julia Weißenberg, de QR codes kun je scannen voor de internet film 'to make you feel comfortable' uit 2017, Invest in Jonas Lund! en als uitsmijter nog een Dullaart…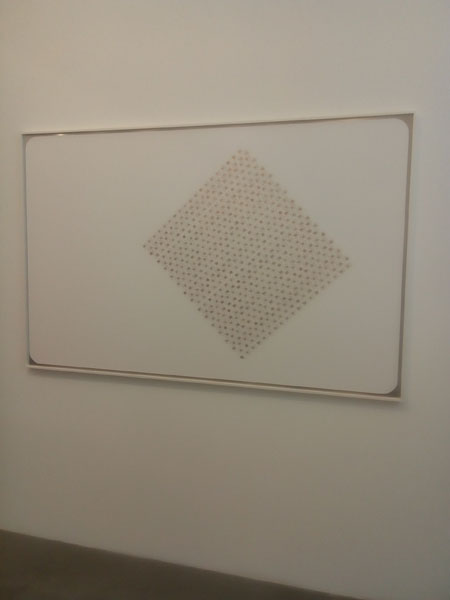 > Constant Dullaart met geinig detail, naam van vriendin in het werk verstopt: Mirthe,
…en Bar Babette doet tegenwoordig de catering in KINDL