Grote vette, kleurrijke diorama's haast van klinkend, drinkend volk van Raquel ten Haver culminerend in een laatste avondmaal van 4 bij 9 meter, rumoerig en LUID. Heb je er één gezien, dan heb je ze allemaal gezien. Dat hoeft geen bezwaar te zijn, dat zie je uberhaupt bij de professionele hedendaagse kunstenaar. De herhaling als merktechnisch fort. Hier een vorm van honkvaste stijlvastigheid die wat robuust en stilistisch overkomt. Lekker raggen met die verf. Kleuren met dikke lagen boetseerklei. Het is fysiek en intensief penselen. Ik zie er wel aardigheid in. Het is geen opgelegd pandoer, komt natuurlijk en eigen over. Die vrouw heeft schik in op haar manier verhalen vertellen.
Het zijn zeker grote werken en tot mijn schrik zie ik in de contextloze kiekjes die terug haast als miniatuurtjes. Alsof iemand altaartjes heeft gebakken van zeg 40 bij 90 centimeter.
Het Stedelijk Museum voorziet dat mensen omvallen van verbazing.
Maar dat is helemaal de bedoeling niet.
Goed deze set werken zijn allemaal in vette durende sessies gebakken. Het is een eenheid. Raquel van Haver zoals we haar kennen.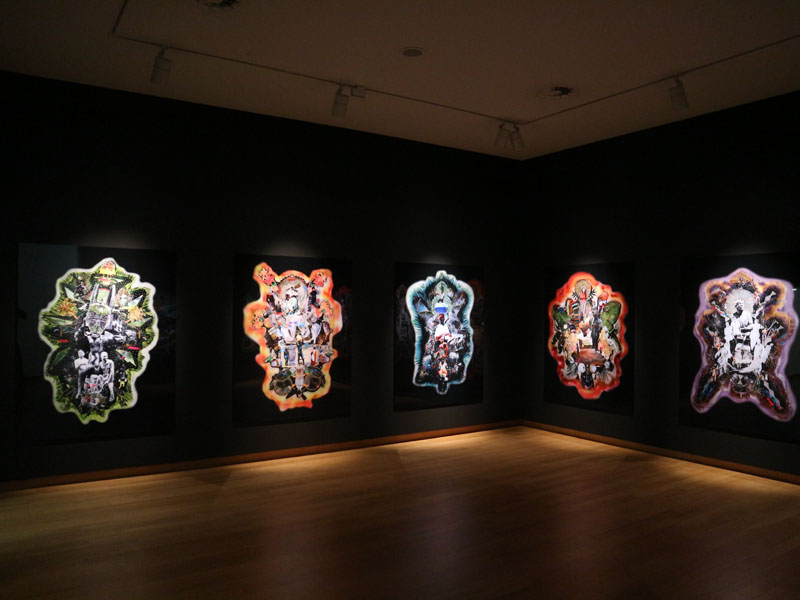 Leuker, sterker, opvallender nog dan deze serie klassieke doeken zijn deze verfraaide collages. Mooie knetterende set wacht aan de einder en maakt haar scope net iets meer breed.
Raquel van Haver is nog te zien tot 16 april.
stedelijk.nl/nl/tentoonstellingen/raquel-van-haver
Hé en dat is ook toevallig – dat is vandaag:
MARTIJN VAN NIEUWENHUYZEN
SPIRITS OF THE SOIL
Gallery talks — 13 mrt 2019 van 16.00 tot 17.00 uur.
stedelijk.nl/nl/evenementen/martijn-van-nieuwenhuyzen-spirits-soil